Gertrude Sellards Pearson got a major makeover this summer.
Photo Gallery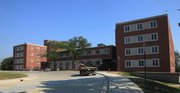 Big changes at GSP
Well, not the late Kansas University women's hall of fame philanthropist Mrs. Pearson, of course, but one of the four residence halls that bear her name. (JRP, now an academic and administrative building, was a dorm when it was built in 1959 and is named for her husband, Joseph.)
The Department of Student Housing is in the midst of a yearslong project to renovate all of its properties.
GSP, 500 W. 11th St., will open this fall and house 383 students after undergoing a $13 million revamp. Housing officials' attention will then turn to McCollum Hall, the oldest residence not yet renovated, and eventually to Oliver Hall. Those projects are years down the road, but the department is working on finding funding now, director Diana Robertson said.
With its reopening this fall, GSP will go from being all-female to housing both men and women and will have a mix of single- and double-occupancy rooms as well as suites. Its dining hall also got a facelift and will be open to anyone with a meal plan, not just hall residents. Housing and KU Dining call this space the North College Cafe and say that, along with the beefed-up academic resource centers, it makes GSP a more attractive space for students and potential students.
"We wanted to make GSP a destination place on campus," Robertson said.
The Mount Oread Scholars will also have a home at GSP — one floor will be a residential learning community. The Honors Program has a similar setup in Templin Hall, but this will be the first for Mount Oread.
In other departmental changes, the administration office for apartment living, the office that oversees Jayhawker Towers and Stouffer Place Apartments, will move into the Burge Union to be closer to the students it serves.
— Reporter Alex Garrison can be reached at 832-7261. Follow her at Twitter.com/alex_garrison.
Copyright 2018 The Lawrence Journal-World. All rights reserved. This material may not be published, broadcast, rewritten or redistributed. We strive to uphold our values for every story published.