News and notes from around town:
• So, you've got trash and you've got questions. That seems to be the gist of several phone calls we've been receiving since the city finalized its plans this week to purchase 21,000 trash carts that will be required to be used by pretty much all single family homes in the city.
Well, we will try to answer some of the questions.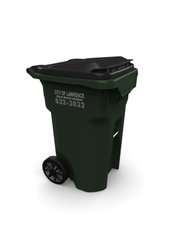 What are these carts going to look like? If you can peel your eyes for a second off my beautiful prose, you will see a picture of the new carts to the side of this article. They look much like the carts the city has now. And yes, they are green. Not yellow and black or purple or any nonsense like that. Only the anti-Leprechaun crowd should be upset by the color.
Who will have to use these carts? Basically, if you are a resident and you set a bag or a can out at the curb currently, you will have to start using the carts. The system probably will be in place by October, or November at the latest, I would guess. People who live in apartments and put their trash in Dumpsters will keep doing that.
How am I going to get these carts? The city and the manufacturer, which is located in De Soto, will deliver the cart to your home. Unless you take steps to tell them otherwise, you are going to get a 65-gallon cart. The city will operate a website and probably a phone line and such for people to call in and request a different size. The two other size options are 35-gallon and 95-gallon. As we reported in a previous article, the size of your cart will impact the size of your monthly bill.
What if I already rent a cart from the city? Am I going to have to get a new one? No, unless you want a different size.
What if I own my own cart? Am I going to have to get a new cart from the city? Yes. The idea behind the mandatory usage of carts is so the city can increase the automation of its trash fleet. The carts need to be compatible with the hydraulic lifts that currently are on city trash trucks. They also need to eventually be compatible with trucks that have robotic arms that can reach out and grab the carts.
Is the city actually going to use those robotic arm trucks? Yes, and sooner than you may think. On Tuesday, city commissioners will be asked to approve a $170,365 bid to purchase a new trash truck with a robotic-like arm. I'm not yet sure what areas of the city the truck will be used in, and it likely will take a few months for the truck to be delivered. But I suspect this is the first of several such purchases over the next few years. The trucks and their arms won't work in every neighborhood in the city, but they will work in a lot of the newer areas of town where space or on-street parking isn't a problem. The trucks may be a game-changer because they are designed to be staffed by just one person: the driver. Currently, city trash trucks normally have a crew of three people.
What am I going to do with all my trash cans? You can keep them or you can recycle them. The city is reminding residents that trash cans will be allowed as part of the city's yard waste program. This is an important point: Nothing is changing with the city's yard waste program. You can still use carts, cans or compostable bags for your weekly yard waste pick-ups.
But if you need to get rid of your trash can, the city will be running a recycling program during the early parts of this transition. Current plans call for city crews to come pick up unwanted cans on designated days. The city first will offer those cans to Lawrence residents who want them for yard waste or other purposes. The cans that aren't given away will be turned over to the cart manufacturer, which will recycle the material.
What if I can't fit all my trash in the cart? The city's policy will allow people to "occasionally" set out extra trash in cans or bags that won't fit into the cart. Obviously, "occasionally" can be a bit of a gray area. I chatted with Tammy Bennett, assistant director of public works, and she indicated that if people are setting out extra trash three or four times in a 120-day period, that probably is going to be deemed more than occasional. At that point, the city will bring you a larger cart, and your monthly bill will be adjusted accordingly.
What if I just regularly produce a lot of trash and I can't fit it all into a 95-gallon container? The city will rent you multiple containers. But be aware: You will be paying a premium price. If you need to rent an additional 65-gallon container, that will add an extra $3 per month to your bill. If you need to rent an additional 95-gallon container, it will add $4 per month to your bill. Let's be honest here. A key component of this whole cart system is that it will make it easier for the city to charge a higher price to residents who produce a large amount of trash on a regular basis.
What about curbside recycling? These carts don't have anything to do with curbside recycling. But the city is still working on creating a citywide curbside recycling program that would be included in everyone's monthly trash bills. City commissioners basically have said they are very interested in adding a citywide curbside recycling program to it services, but commissioners haven't yet committed to do so because they are unsure of the cost.
An oddity in state law likely will make it impossible for the city to start a service before 2014. The big question, of course, will be: What color will the recycling carts be? No, actually, the big question will be how much will it cost and will the city operate the service or will it contract with private companies?
Currently, several private companies offer curbside recycling service in the city.
• Normally, I don't pay much attention to signs at or near golf courses. Such as: "Out of bounds"; "No hitting from yard"; or "Chad, you cannot get on our roof to retrieve your ball."
But there is a sign at the Orchards Golf Course, 3000 Bob Billings Parkway, that I've noticed. The sign lets everybody know that the nine-hole, executive golf course is for sale.
I know you have noticed it too because somebody here at the Journal-World wrote about it while I was on vacation last week. But I gathered a couple of other pieces of information that I'll pass along anyway.
Mainly folks were wanting to know what the asking price for the course was. I assume because you need to know how to fill out the check. Well Steve Hughes, a Kansas City-area broker who has a listing on the property, tells me the asking price is $385,000.
As we noted in the last article, the property only can be bought to use as a golf course or open space. If you have thoughts of buying the property to turn it into residential development, think again. A conservation easement on the property prevents that. Neighbors paid owner Ed White — who had the misfortune of buying the Orchards just a bit before the city decided to open Eagle Bend Golf Course — a significant amount of money in the early 2000s to prevent White from selling the property to developers.
But while you have your checkbook out, you might take a look at this opportunity. The website advertising the Orchards course also notes that the Alvamar public and private golf courses are still for sale for just $6.5 million.
But Hughes advised that people take all of that with a grain of salt. It is no secret the courses obviously have been for sale, and it was thought a deal was reached more than a year ago. After that deal fell apart, the country club brought in Billy Casper Golf to manage the courses. Hughes said since that point his company hasn't really been actively marketing the property, but owners of the course surely would still listen to offers.
I just pass it along because I figured some folks may see the listing and wonder what is going on. Plus, maybe your pen is overflowing with ink today.
If so, it looks like there are plenty of opportunities to get in the golf business. According to this website, there are five golf courses in or near Kansas City — including the main course in Ottawa — that currently are up for sale, and one recently sold in Leavenworth.
Hughes said the golf industry is very much waiting for a turnaround in the economy.
"In general, golf has been very weak," Hughes said. "Some facilities are getting a little better, but it is still very much a case-by-case basis. If the economy picks up, I think golf is ready to pick back up with it."
So, beware. Someday soon, I may once again be on your roof.
Copyright 2018 The Lawrence Journal-World. All rights reserved. This material may not be published, broadcast, rewritten or redistributed. We strive to uphold our values for every story published.