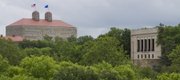 Subscribe to the email edition of Heard on the Hill and we'll deliver you the latest KU news and notes every weekday at noon.
Your daily dose of news, notes and links from around Kansas University.
• I'm looking forward to a scheduled tour today of the new engineering building that's well on its way to being fully operational. (Check back later for the whole scoop, with photos, too).
It's a nice step along the way for the School of Engineering to meet its goal of increasing the number of engineering graduates it's churning out by 50 percent annually.
One question I hope to get an answer for is about the fate of the nuclear reactor inside Burt Hall. I've heard varying stories as to what's going to happen to it, though I believe the construction will mostly take place around it. I'll get a straight answer soon.
The small reactor used for research and training ceased operating in 1985 and was cleaned to Nuclear Regulatory Commission standards in 1992.
• And speaking of engineering, I'm going to right a ship that really should have been righted a while ago.
I was speaking with a faculty member some time ago who asked about an engineering professor who received $612,000 in retention funding from the Kansas Bioscience Authority. (Here's the first article I wrote about it.)
And while a small box naming the person ran in the newspaper, it didn't get posted online (that I can find, anyway), so I'm bringing it to you now.
The professor was Michael Detamore, associate professor of chemical and petroleum engineering.
He had been recruited by another school, so the KBA approved him for its Rising Star program (a program that was also instrumental in recruiting faculty to the KU Cancer Center).
The funds will be matched with additional dollars from KU, and will support his salary and research efforts, which focus on the rather interesting field of bioengineering. One thing he does is so-called "tissue engineering," which focuses on bone and cartilage regeneration.
He received the funds back in March, which demonstrates how frazzled my brain gets occasionally.
• We've got just one day before the big move-in and the new year really gets going. And the return of the students typically means the end of the big summer road construction projects going on around campus.
The University Daily Kansan reports that the West Campus construction that's been clogging up the works over there for most of the summer is now open.
That means people can once again travel over Iowa Street between Daisy Hill residence halls and the Lied Center, and traveling around buildings over in that neck of the woods got a lot easier, too.
• The roadway to submitting tips for Heard on the Hill is always clear. Just keep sending me emails at ahyland@ljworld.com.
Copyright 2018 The Lawrence Journal-World. All rights reserved. This material may not be published, broadcast, rewritten or redistributed. We strive to uphold our values for every story published.