Some residents of a Lawrence neighborhood are petitioning to keep a vacant lot in the area unfilled.
They lost a battle in their fight Wednesday, but they — as well as the supporters of a development project there — are determined to win the war.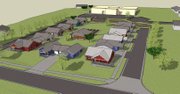 The disputed lot is adjacent to the United Way building, 2518 Ridge Court, and the proposed development would likely face Cedarwood Avenue. Douglas County owns the lot and, in its Wednesday evening County Commission meeting, agreed to give it to Tenants to Homeowners on the condition that it build housing for middle-income seniors there.
Jean Affalter led the home- and land-owner opposition to the plan at the meeting, where she gave commissioners a petition with 57 signatures — many from multiple members of the same household — asking them to kill the plan.
Affalter and several others who spoke at the meeting said they didn't want to see more rental property in the area. The traffic flow and especially the water and sewer systems just couldn't handle any more residents, Affalter said. She's also upset with what she said has been a lack of notification on the land transfer from the county to Tenants to Homeowners. Her petition also cites projected lower property values as a reason against development.
"The neighbors are not happy," she said in an interview. "We want a park there ­— more building will further push families with kids away."
Rebecca Buford, executive director of Tenants to Homeowners, is herself a resident of the neighborhood. She disagrees with Affalter's opposition, saying that she understands it's disappointing to see vacant land go but that the project is a much-needed one that will ultimately benefit the surrounding residents.
"We're a much better developer and neighbor than someone just out for a profit," she said of Tenants to Homeowners.
The organization does plan to develop rental properties — to the neighbors' chagrin — but that's because rental is what seniors want, Buford said, and they do plan on offering long-term accommodations, such as five-year lease agreements. The homes will also be one-story "cottages" with some communal space.
This kind of housing for senior residents is desperately needed in Lawrence, said Hilda Enoch, a member of the Kaw Valley Older Women's League, who was part of the committee that originally came up with the idea of involving Tenants to Homeowners but never thought that it could afford land. Then another member thought of asking the county for its lot.
"This kind of housing makes seniors' lives easier," she said.
But Tenants to Homeowners has a long way to go before it can even consider breaking ground. Thanks to the commissioners' support, it now has site control of the lot but it will need to be rezoned for multidwelling and probably re-platted, too. It's during this process that representatives will need to inform the neighbors of the development plans, said Scott McCullough, director of the planning department for the city.
Affalter said she'll continue to try to block any development in the area and to try to get the city to upgrade the water main infrastructure outside her home of more than 35 years. She says her group is against rental properties, not seniors.
"I've already got my name in the pot," she said about the civic process.
Copyright 2018 The Lawrence Journal-World. All rights reserved. This material may not be published, broadcast, rewritten or redistributed. We strive to uphold our values for every story published.