In 2000, when Paul Wood moved back to Lawrence with his son, Jason, they were strapped for cash. The elder Wood had left his job with California public schools to care for his son, who had been critically injured in a cycling accident.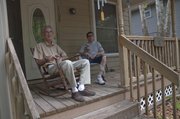 "He was in a coma for a long time," Paul said. "It was a head injury, and he lost a lot of cognitive ability and physical mobility. ... Jason wanted to come back to Lawrence because this is the place he knew."
When it came to housing, Paul said, they took what they could get: a one-bedroom basement apartment on Mississippi Street costing more than $400 a month.
"It was tiny," Paul said. "I slept in the living room, and Jason didn't have room for his art.
"His art is his way to recover."
Father and son remained in the cramped basement apartment for five years.
"We had a plan to move into a home, but it was hard to get money for a loan," said Paul, who found a job as a paraprofessional in the Lawrence school district.
That was when Paul contacted Tenants to Homeowners, a community not-for-profit that helps low-income families find affordable housing.
"We didn't get a home overnight," he said. "We had to get our credit in order."
This year, Tenants to Homeowners is celebrating its 20th anniversary, during which time it has helped more than 365 families locate affordable residences.
"The group started as a grass-roots organization," said early volunteer, Teresa Pippert. "We met in east Lawrence every Monday night for a year in the early '90s to get the organization up and running. We were all volunteers and had representatives from neighborhoods, professionals and builders."
The group came to be known as HOOT, or Homeowners Out of Tenants, and its goals were to not only help low-income people achieve home ownership but also to revitalize neighborhoods. They targeted "low to moderate and blighted neighborhoods in Lawrence, North, East, Oread, Brook Creek and University Place to name a few," Pippert said. "Our biggest project was the HOME development near 25th and Haskell. If I remember correctly, there were approximately 25 homes that were built and sold to low- and moderate-income families."

Affordable housing
The 1990s and early 2000s were good times for homeowners in Lawrence as home prices rose annually. While good news for property owners, the city and the housing agency were not feeling the love.
"We noticed that when families sold their properties, they were often walking away with a sizable profit," said Rebecca Buford, TTH executive director. "And while we were fulfilling our mission, the subsidies the city and our organization provided were lost to those families."
"We were seeing properties purchased through the grant program that were initially affordable, become no longer affordable due to the rising cost of housing in Lawrence," said Margene Swarts, the city's assistant director of planning and development services. "Many of the properties were selling only a short time later for much increased values. ... The amount of the required subsidy for a new entry-level homeowner in the same property exceeded our program limits. The city and TTH recognized this was an issue and began looking for a solution."

The solution came with a program used by other cities since the 1970s, but it had never been tried in Kansas: a land trust model.
"Basically it's the same as owning a home as the owner gets to realize gains made from home improvements and increased property values," Buford said. "The only difference is that the owner agrees to sell it at a lower price so the homes remain affordable in perpetuity."
It works because, while the individual or family owns the home, there is a 99-year lease on the lot on which it sits.
Since transitioning to the model, TTH has amassed a stock of 54 homes, including one at 1108 Conn. where Paul and Jason Wood now live.
"This was the first land trust house," said Paul, who moved into the home in 2005. "It isn't huge, but it's big enough for us. And Jason has his own studio."

Homeowners will tell you that affordable housing is not just about a low sale price. Utilities and maintenance are critical in determining whether a home is truly affordable.
"What good is it to have a low house payment if you spend $400 or $500 on utilities?" said Robert Baker, resource development director for TTH.
Building energy-efficient homes is something at which TTH excels. Of the 54 homes currently in trust, 33 were built to exceed Energy Star standards for efficiency. One home, affectionately called "The Dome Home" at 1245 N.J., was named the greenest home in Kansas. Baker reports that utilities for the home average $1.08 a day.
"One of the things that makes us different is that we are in it for the long haul," Baker said. "So when we build a home, we put our money into durability and energy efficiency."
Tenants to Homeowners is in it for the long run in other ways by providing pre-purchase counseling and classes on home maintenance.
"We combined our maintenance class with a chili feed as a way to bring the community together," Baker said.
Providing stability
Another way TTH continues to support homeowners is with an emergency fund. Homeowners pay $25 a month, which becomes a maintenance fund, to the agency.
"It's human nature to not plan for those rainy days," Baker said. "This way, there is money available if something should happen."
The effect of the support is significant and noteworthy.
"We have never had a foreclosure, even with the downturn in the economy," Baker said.
"Homeowners aren't abandoned as soon as they sign the paperwork," said Wood, who has used his funds to repair his roof and purchase a dishwasher.
The TTH staff sees themselves as having a "partnership" with the house.
"We provide a safety net," Baker said. "If someone is falling, we are there."
TTH's newest development is Prairie Wind at 26th and Haskell. It is an 18-home development of two-, three-, and four-bedroom Energy Star homes available to qualified buyers for $30,000 to $50,000 below market value.
For those who may not be ready for homeownership, TTH has also built up a supply of affordable rentals, recently renovating seven units at 1409 and 1411 Haskell Ave. They have come to be known as "Eastside Estates."
"A lot of families are treading water, paying $800 to $900 in rent, and they have no way to save for a home," Buford said. "Our rentals can provide a stable place for them while they do that. We can help them transition into homeownership."
"No matter where you are on the political spectrum, the community gains from having affordable housing," Buford said. "We allow people to build assets. Study after study shows that stability is good for families and communities. Kids who don't move year to year have higher civic participation and voter registration. Graduation rates go up, and pregnancy rates go down."
Copyright 2018 The Lawrence Journal-World. All rights reserved. This material may not be published, broadcast, rewritten or redistributed. We strive to uphold our values for every story published.