Photo Gallery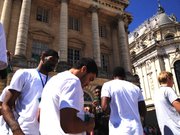 Jayhawks tour Palace of Versailles
The Kansas men's basketball team toured the Palace of Versailles on Friday, Aug. 10, 2012, in Versailles, France.
Versailles, France — Following a two-hour tour of the Palace of Versailles on Friday, Kansas University men's basketball coach Bill Self felt a little young as an American.
"We think 'old school' is something that happened in the 1980s and 1990s back home," Self said. "This is a whole different level."
The palace, which served as the center of the French government from 1682 through 1789 before the French Revolution, was the next stop for the Kansas men's basketball team on its tour of Europe.
The Jayhawks will resume playing basketball today with a 1 p.m. CDT game against AMW Team France at Stade Pierre de Coubertin in Paris.
Self admitted he was impressed with his players during Friday's tour, saying they were "captivated" by the history of the famous landmark.
"I would say that the Kings XIV through XVI, primarily XIV, had a pretty high opinion of their value and their worth without question," Self said with a smile, referring to the kings that built and lived in the castle. "It was amazing the amount of time that it took to do everything within the palace, whether it be the paintings or the stonework or the marblework.
"It's just totally amazing that they could do those things at a time when there was absolutely no machinery except pulleys and man-made stuff. It's an incredible deal."
KU freshman guard Evan Manning left overwhelmed by the enormity of the bedrooms, gardens and hunting grounds.
The Free State High School graduate also appreciated having time to hang out with his teammates away from basketball.
"To come to this place — it's out of our comfort zone. It's different from what we're used to," Manning said. "It's really cool, a lot of fun. Europe has just been amazing so far, and it's only going to get better."
Copyright 2018 The Lawrence Journal-World. All rights reserved. This material may not be published, broadcast, rewritten or redistributed. We strive to uphold our values for every story published.