Ben Sloan still remembers his initial tryout for the Lawrence Aquahawks.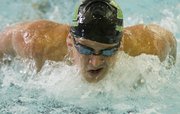 Just 7 years old at the time, he and his older brother and sister, Logan and Katie, were all swimming to see if they could be a part of the club.
The youngest Sloan wasn't new to swimming, but he just couldn't manage to get comfortable in the water.
"Hated it," he recalled. "Absolutely hated it."
Yet here he is, nearly 11 years later, wrapping up his 10th season with the Aquahawks by competing at the USA Swimming Senior Central Zone Championships at the Lawrence Indoor Aquatic Center.
After a year of watching his siblings swim for the club, Sloan decided to give it another try and stuck with it.
"My first few meets that I went to started my love for the sport," Sloan said. "It's cool — especially when you're younger — the more you put in, the more you get out."
Seemingly with every practice, his times would drop. That's when Sloan started to realize the pool would become a second home for him.
Now a Free State High senior, he first worked with Aquahawks coach Justin Clossen during his first few years with the club. When coaching 8- and 9-year-olds, the coach said, it is hard to know how their swimming careers will turn out. But there were promising signs with Sloan, particularly his attention to details.
"He's very calm. He's a very intelligent young man," Clossen said. "And he really takes his time and thinks about things."
Sloan used to play soccer and swim, but around the age of 12, he gave up his other sporting love.
"It got to that point where I needed to choose," he said, "and the talent level was not quite the same in soccer as it was in swimming,"
There began Sloan's year-round commitment to swimming. He's now at a point where he specializes in the 200 IM, 200 fly and 100 fly. In preparation, he swims 45,000 yards or more a week.
"It's frustrating almost," he admitted, "because it takes so much time with practice and training just for a two-minute race."
The end goal for Sloan, as with any club swimmer who commits to the sport, was to turn his athletic ability into a college scholarship. Clossen said the Aquahawks have that in mind, too, even as they train younger children.
"We don't necessarily want the fastest little 12-year-old in the country," the coach said. "We want the kid to keep developing all the way through and when they go to college have their most successful years there."
Sloan's personal goal has always been and remains to be landing a scholarship with an NCAA Division I program. A few weeks away from the beginning of his senior year, he feels good about his options. Sloan has spoken with a number of schools, mostly Division II at this point. But the first week of July he received a phone call from a coach at the University of Massachusetts, an Atlantic 10 program.
"That was pretty emotional for me, because 10 years of all this hard work was finally being recognized and paying off," Sloan said. "It's just an unreal feeling to know there are schools out there that are interested in you and want you."
He'll leave Monday for the Northeast and take unofficial visits to New York University and Columbia. But his most highly anticipated trip will be to UMass.
Regardless of which school Sloan ends up choosing, his Aquahawks coach knows what made him a college-level swimmer.
"He's not the biggest kid, he's not the strongest kid," Clossen said, "but he pays attention to his stroke technique, he pays attention to the coaching staff. He works extremely hard."
Copyright 2018 The Lawrence Journal-World. All rights reserved. This material may not be published, broadcast, rewritten or redistributed. We strive to uphold our values for every story published.