Members of the Lawrence High and Free State cross country teams are not letting the heat and humidity prevent them from getting ready for their respective seasons.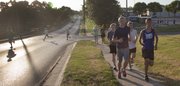 LHS head coach Brian Anderson and Free State head coach Steve Heffernan are leading their teams' summer running programs for those are all willing and able to meet on weekday mornings.
"Well, you know, it is not a mandatory thing, so we're excited when we have people show up," Heffernan said, noting that 25 to 45 runners show up each day. "It's been our best summer of conditioning in the time I've been at Free State the past 15 years."
The Firebirds' girls team is attempting to return to the Class 6A state meet after placing ninth overall in 2011. Although Free State will lose Lynn Robinson, who took seventh at state last year, Heffernan believes the team still has the talent to make back-to-back appearances.
"She finished on a really good note last year and there is no question that we couldn't have qualified without her being on the team, but I think at the same time, we've got some girls who are really ready to step into the leadership roles that have been left ... and I think they are going to do a fantastic job," Heffernan said.
Rosemary Newsome, Bailey Sullivan, Molly McCord and Olivia Lonely will return from the 2011 state-qualifying team. With those four experienced returners and a few talented underclassmen, Heffernan thinks the Firebirds have a shot at another successful season.
For the Firebirds' boys team, Heffernan is counting on some underclassmen to step up after losing 2010 state qualifiers Kain Anderson and Kamp Wiebe to graduation.
"We've got a strong nucleus of sophomores, which are guys that are a little bit young, but they really put a lot of work in over the past 12 months getting ready for this cross country season," Heffernan said.
Lions also rebuilding
The Lawrence High boys team is in a similar situation to Free State — runners who had been on the borderline between the junior varsity and varsity levels will be expected to compete for positions on the top squad. Lions coach Brian Anderson believes that other than returning state qualifier Gavin Fischer, competition to fill the varsity squad is wide open.
"Chester Lewis should be up there if he comes back ... We knew this was going to be a rebuilding year," Anderson said. "We've also got some kids who have been working hard this summer, so we're going to see what they come up with. Philip Gabler, Adam Edmonds and Eddie Wilson have been working really hard."
Despite not being sure how his varsity team will pan out, Anderson is optimistic that the competition for spots will help the Lions improve.
"I'd really like to see them qualify for state," Anderson said. "Gavin, he's got some goals ... some really hefty goals that he is trying to obtain. The other guys have really stepped up from where they were last year. We've got about 10 of them that are running pretty strong right now."
While Fischer is the lone returning state qualifier for the boys team, Grace Morgan is only runner from the girls team who ran in the state meet last year.
"Well (Morgan) is going to be one of the captains, so she is taking on a good leadership role," Anderson said. "She had a pretty good track season this year. The other captain, Emily McEntire, she stepped up this year, and she did track and she had a good track season as well. We're looking at a lot of leadership from the two of them."
Morgan and McEntire placed fourth and 22nd, respectively, at the regional meet with junior Laura Neilsen following closely behind in 28th place, but there was a 17-runner gap between Neilsen and Lawrence's next runner. The Lions' Nos. 5, 6 and 7 runners at the meet were all freshmen, though, and Anderson thinks the experience from the regional race will pay off this year.
"I think it really helps us a lot," Anderson said. "Last year, we knew was going to be a rebuilding year and we've got five sophomores, some freshmen and a new senior that are going to step up and help us out."
The Lions will begin their season Sept. 1 in the Manhattan Invite, while the Firebirds will run in the Greg Wilson Classic on the same day in Overland Park.
Copyright 2018 The Lawrence Journal-World. All rights reserved. This material may not be published, broadcast, rewritten or redistributed. We strive to uphold our values for every story published.