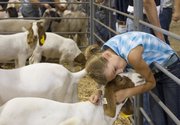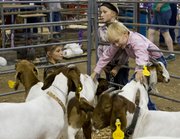 Holly Vesecky, 11, gave Puppydog Face a final hug. Soon the Douglas County Fair would end. And so would her relationship with the goat she raised since it was a kid.
The 4-H and FFA Livestock Auction helped bring the fair to a close Saturday night. More than 350 people gathered to watch and bid on the 141 pigs, goats, rabbits, chickens, sheep and cattle raised by 4-H members.
"I'm not going to be happy with whoever buys it if they butcher it," said Holly, who then swatted at a nearby boy after he asked her if she knew what a consignment auction was.
Of course Holly, a sixth-grader in the Vinland Valley 4-H Club, knew exactly what it was.
But the auction has a happier side. It serves almost as a charity event for the 4-H members.
Bidders buy the animals that 4-H'ers raise and show, often paying way over market value. Some sheep assessed at $100 sold for more than $600. The money from the sales goes back to the youths who raised the animals.
"Every year I am amazed at the people who give," said Bryan Lang, who had two daughters selling animals in the auction. "This county has one of the better auctions in the state."
Some 4-H'ers save the money, putting it toward college. Others reinvest it.
"More than likely the money's going to my dad," Holly said. "We will probably use it to buy better goats."
4-H'ers weren't the only ones benefiting from the community's generosity. Tyler Kapelle, of Lawrence, donated a hog that brought $750 and hundreds of pounds of pork for Just Food, a local food pantry. Santa Fe Trail Meats agreed to process the hog for free.
Copyright 2018 The Lawrence Journal-World. All rights reserved. This material may not be published, broadcast, rewritten or redistributed. We strive to uphold our values for every story published.