A water main broke early Wednesday morning on Mississippi Street behind Dyche Hall at Kansas University causing water to seep into two bottom floors of the Spencer Museum of Art, said Joe Monaco, a KU spokesman.
"We're evaluating the damage right now and the extent of the damage. We should know more as the day progresses," Monaco said. "All the artwork in the building is completely intact."
Photo Gallery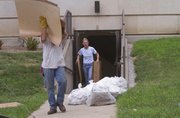 Spencer Art Museum closed after water line break
Water that flooded into the street caused a bulk of the damage on the building's bottom floor, which houses a library, Monaco said. A smaller amount of water entered the next floor up, which is home to workshops, classrooms and a photo studio, but no major equipment was damaged. The building's third and fourth floors, which houses artwork was not damaged, he said.
The museum is closed Wednesday as KU officials are still assessing the damage. Monaco said later the library would be closed the rest of the week, but KU officials would decide later when to reopen the rest of the museum.
KU facilities workers were in the area trying to make repairs and that Mississippi Street was closed between Memorial Drive north to the loading dock of the Kansas Union. No other buildings sustained damage, Monaco said.
Copyright 2018 The Lawrence Journal-World. All rights reserved. This material may not be published, broadcast, rewritten or redistributed. We strive to uphold our values for every story published.