Base runners were never the problem for the Free State baseball team Thursday night.
Getting them in, however, proved to be a challenge, as the Firebirds fell, 1-0, to Shawnee Mission Northwest in eight innings at Free State High School.
"It's that key hit," Free State coach Mike Hill said. "So much of the game is timely hitting, and darn it, we didn't have it tonight. It's not an issue of trying at all. Our kids certainly want to do the right thing."
Though the game was ultimately decided in the eighth inning, Hill said the game was lost in the first four innings when Free State failed to push a run across.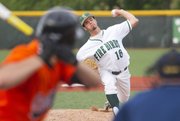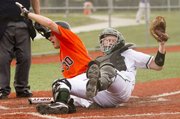 The Firebirds had two runners on in the first, second and fourth innings but were unable to produce any scoring.
Free State left 10 men on base in all and had base runners in each inning except for the eighth.
"We got a decent amount of hits, but they didn't come at the right times," Free State pitcher J.D. Prochaska said. "Then when we had runners where they needed to be, we couldn't bring them in."
Northwest took the lead in the top of the eighth with a little help from Free State.
Michael Schlicht led off with an infield single, and Chase Rader replaced him at first following a fielder's choice.
With Mack Preston at the plate, Rader took off for second on a steal, and an overthrow allowed him to take third.
After FSHS brought the infield in, Preston blooped an RBI single over Free State second baseman Ryan Cantrell.
"We played a great team toe-to-toe all day long," Hill said, "and we blinked."
The coach still left impressed with his starter Prochaska.
The left-hander mixed in a fastball, curveball and change-up to keep Northwest off balance, going seven innings while allowing no runs and four hits. The senior struck out six while walking just two.
"When you're able to deal three different pitches over the plate for strikes, at this level, you're awfully tough. At any level, you're awfully tough," Hill said. "He was phenomenal."
Prochaska's outing was matched by Northwest's Rader, who allowed six hits while striking out seven and walking two in seven innings.
Northwest's Marcus McNeace pitched a 1-2-3 eighth for the save.
No Free State player had more than one hit. Tim Turner contributed a double, while Montana Samuels added a single and walk.
Free State (7-8) plays host to Blue Valley North at 5:30 tonight.
"We'll bounce back (today)," Hill said. "I'm really proud of our kids."
Copyright 2018 The Lawrence Journal-World. All rights reserved. This material may not be published, broadcast, rewritten or redistributed. We strive to uphold our values for every story published.