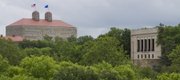 Subscribe to the email edition of Heard on the Hill and we'll deliver you the latest KU news and notes every weekday at noon.
Your daily dose of news, notes and links from around Kansas University.
• KU continues to work on a number of issues related to its ongoing strategic plan, but one of the major early differences will come in a revamped general education curriculum.
It looks like the changes will be pretty major. There will be fewer requirements, certainly, and likely more options to fulfill these requirements (studying abroad may check off a box by itself, as I understand it, as opposed to just focusing on specific classes).
A committee (higher education does love committees) has been working on this for some time now and has identified six educational goals that it would like to see students achieve.
You can look at those goals here. One of them, for example, is to strengthen oral and written communication.
A new committee will meet in the fall to start hashing out what exactly the new curriculum will look like.
• UPDATE: After reading the post below, Jeff Vitter, KU's provost, did confirm for me that he has not been a candidate for Purdue's presidential post. Though I had originally speculated he was a potential candidate, I've made some revisions to reflect that he's not.
One thing I've been watching with some mild curiosity is the ongoing presidential search at Purdue University.
Purdue is looking to replace France Cordova, who is retiring. I had been (only mildly, mind you) curious because KU happens to have an administrator who served for a few years as a dean at Purdue, and was well-liked there (at least from the accounts I've heard) and was involved in its strategic planning process, much like he has been here. (Said administrator even has an "expanded Purdue biography" on his website).
Purdue has also shown it is willing to promote from KU, tapping Sally Mason, a former liberal arts and sciences dean at KU to serve as its provost back in 2001.
Vitter told me on Thursday, however, that he was not a candidate. But all those connections had at least made me curious enough to make me watch the process with a mild curiosity.
And one thing I've noticed is that Purdue, like KU, has taken to announcing no "finalists" for the president's post. Their search committee intends to announce a single person who will be getting the job, without any public vetting of top candidates. So if candidates are vetted and come close but not quite close enough, we'll never quite know.
This is done to protect the job candidates and encourage top-flight people to apply.
As the Lafayette Journal and Courier reports in an editorial, however, the university doesn't apply that same standard to its director of dining for its residence halls. That post had three finalists face questions from the public.
I can understand the difference in the positions, though. Purdue is looking to fill the president's spot by June.
• On my to-do list for today is to further check out a potential news item I first spotted here in a University Daily Kansan story about Chancellor Bernadette Gray-Little visiting the Air Force ROTC.
In the story, which you can read here, the chancellor makes a mention of new improvements coming to the Military Science building. I haven't heard of these improvements before, so I'll see what I can dredge up.
The chancellor told the Kansan that she was pleased to see ongoing programs in support of building upgrades.
The building is a relatively old one, so any improvements would assuredly be welcomed. And I'll leave you with your trivia fact for the day: The building is a Works Progress Administration project, completed on Nov. 1, 1943. Bet you didn't know that.
• Join the Heard on the Hill Works Progress Administration by sending me a tip at ahyland@ljworld.com.
Copyright 2018 The Lawrence Journal-World. All rights reserved. This material may not be published, broadcast, rewritten or redistributed. We strive to uphold our values for every story published.