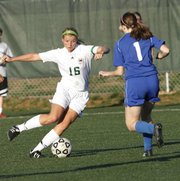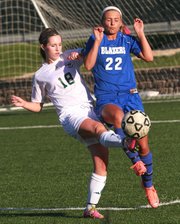 The final score alone doesn't do the domination justice.
Yes, Free State High's girls soccer team beat Gardner-Edgerton, 2-0, Monday night at FSHS, but it wasn't that close.
The Firebirds ruled their home field, rarely allowing the visitors to possess the ball, let alone score — or even take a shot.
Senior Free State goalkeeper Elena Auer saw exactly one shot come her way, and that wasn't until the 61st minute. By that juncture, Firebirds sophomore Maddie Dieker had scored twice and FSHS was well on its way to out-shooting the Trailblazers, 30-1.
Amber Hicks, Kylee Loneker, Chelsea Casady, Regan Keasling, Margaux Gill, Abbey Casady, Hadyn Hutchison, Allix Ice — they all had their shots at scoring and manufacturing a blowout for Free State (7-1-2), but it was just one of those nights where the ball didn't seem interested in finding the back of the net that often.
Loneker, who blasted one final attempt off the right post before time expired, said she and her teammates eventually felt good about the way they were playing.
"It was a little frustrating at the beginning, because we felt like we should've scored some goals," Loneker said. "But as we were going along, we just realized scoring isn't everything, and possessing is mostly what we should do."
Coach Kelly Barah, after seeing his team command time of possession, said that is the plan everytime FSHS takes the field.
"That's what we try to pride ourselves on," Barah said. "Can we defend well and then get the ball and do the things that we want to do with it?"
The defense barely had to do any work on its side of the field, besides Ice, Rylee Fuerst or Olivia Hodison passing — either to set something up or move the ball back to Auer, so she could kick it ahead.
Offensively, Barah was pleased to see the Firebirds impose their will.
"The goalkeeper (GEHS senior Heather Hollingshead) stopped a couple of really close-range shots, we had some sail on us, a couple just go right or left of the post," Barah said. "All and all, I'll take the 'W' and just be contented that at least we didn't get too far off in terms of the possession."
On its seventh of 16 shots on goal, FSHS finally scored in the 34th minute. Dieker, a sub, had only been on the field a few minutes when she made a run from the left side, Gill sent it to her in rhythm, and Dieker sent the ball in off her left foot.
"When we were attacking forward, I kind of peeled off, and Margaux and I worked it up top," Dieker said. "She kind of knows my runs already and played it through. I just had to get one step past the defender."
Her second goal was less conventional.
Dieker didn't get a solid boot on the ball from the left side, about 15 yards out. But Abbey Casady was coming hard at Hollingshead as the ball headed slowly toward the goal.
"Abbey went kind of up for it," Dieker said, "and I guess she spooked the keeper, and it just rolled on through."
Some good luck was overdue with Free State in such control. Not that Barah was worried about the final margin.
"If you're in this long enough, you'll see a couple of crazy ones like this," the coach said. "We just couldn't finish (Monday). Hopefully we get back on that train (tonight)."
Free State will play at Olathe South at 7 tonight.
Copyright 2018 The Lawrence Journal-World. All rights reserved. This material may not be published, broadcast, rewritten or redistributed. We strive to uphold our values for every story published.