Free State's Alexa Harmon-Thomas switched her shoes, ran to the track, leapt over one hurdle, then took her spot at the starting line.
Because she also was competing in the long jump at Saturday's Kansas Relays, the sophomore had only seconds to prepare herself for the race she was favored to win.
"I was pretty nervous going into it," Harmon-Thomas said, "because I was over here at long jump, so I didn't have that much time to warm up."
Turned out she didn't need it.
Photo Gallery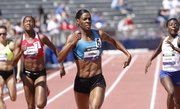 Kansas Relays 2012 (Saturday)
Harmon-Thomas wasn't challenged after the first few steps, taking the 100 hurdles championship with a time of 14.45 seconds — a season-best and just two-tenths off her personal record.
"I just wanted to go out hard from the beginning, because sometimes I have issues with my start," Harmon-Thomas said. "And I just kept going."
Harmon-Thomas entered the event with the top qualifying time after posting a 14.61 Friday.
She didn't have much time to celebrate her victory Saturday. Right after winning the 100 hurdles, Harmon-Thomas made her way back to the long jump pit to compete in the finals.
For a while, it didn't look like she'd get the extra jumps. Her first two leaps were short of the mark needed to make the top eight — the baseline needed to earn three additional attempts.
"I focused really hard on that one," Harmon-Thomas said, "to make sure I could make it into finals."
When she needed it most, Harmon-Thomas came through with a 17-foot, 8-inch leap. That ended up being her best mark, which was good enough for fifth place.
Harmon-Thomas' day contributed to a strong weekend for Free State, with coach Steve Heffernan calling it the best overall team performance at the Kansas Relays in the school's 15-year history.
"It makes me excited about the weeks to come," Heffernan said.
Free State's 4X400 relay team broke its own school record, as the grouping of Khadijah Lane, Bailey Sullivan, Courtney Huffman and Lynn Robinson posted a time of 4:07.37 to finish third in the Sunflower Showdown.
Right after the race, the four girls huddled together in celebration, with Robinson shouting out, "We did it again!" The Firebirds set the school record the previous day when they ran a 4:09.89.
Lawrence High athletes set three personal records of their own, with two of those coming in throwing events.
Rebecca Finley finished sixth in the discus with a throw of 128 feet, 2 inches.
The freshman admitted to loosening up after posting a long first toss. Her first throw of 122 feet, 9 inches was seven inches farther than her previous best.
"I just felt the energy," Finley said. " ... Just spinning (on the second throw), I felt it was going to go big."
Her second attempt was exactly six feet longer than her personal record heading into the day.
LHS coach Jack Hood said it was only the second time in his 12 years with the school that a girls thrower had placed in the top eight in discus at the Kansas Relays.
Blake Hocking added his own PR in the discus, throwing 153 feet, 11 inches to tie for 11th.
The LHS girls 4X880 relay team of Leah Gabler, Michala Ruder, Payton Covert and Riley Shook also set a new personal record with a 10:23.73.
After setting a school record in the 3,200 on Friday, Free State's Kain Anderson finished 23rd in the boys 1,600 on Saturday with a time of 4:27.60.
The senior, who ran in the final heat, said the race's sluggish start caught him by surprise.
Through two laps, all 12 runners were still bunched together in a pack.
"I could hear coach Heff on the other side," Anderson said. "He's like, 'Hold on, Kain, hold on, it's about to get fast.' I was like, 'I don't feel it yet.' Then all of a sudden, they took off."
At the front stretch of the third lap, Anderson was in last place out of the 12 competitors in his heat. He recovered to finish ninth.
He said he enjoyed his first time running in the third heat of a 1,600.
"It's really cool and really scary at the same time," Anderson said. "I felt like, 'I'm not sure I was supposed to be in that with them,' but at the same time, I look at the guy who won, and he had a 4:19. My PR is 4:21. I could have been right there with him. So I was meant to be in this race. It was a good time."
Free State senior Lynn Robinson added a 21st-place finish in the girls 1,600, posting a time of 5:21.64.
Copyright 2018 The Lawrence Journal-World. All rights reserved. This material may not be published, broadcast, rewritten or redistributed. We strive to uphold our values for every story published.