If you only watched the first inning of Saturday's city showdown softball battle at Free State High, you might have walked away thinking Lawrence High was well on its way to victory.
With a double from Marly Carmona and an RBI single from Lauren Byrn, the Lions jumped ahead in the top of the inning and then shut the Firebirds down, 1-2-3, in the bottom.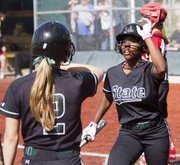 After that, everything changed and the Firebirds rolled to an 8-1 victory to improve to 4-5 on the season.
"Today was a good day for everything," Free State coach Lee Ice said. "Pitching, hitting and defense. And when you put everything together, you see how easy the game is."
Despite struggling out of the gate, the Firebirds were, well, on fire from there on out. Courtney Parker's towering two-run home run in the bottom of the second got the FSHS offense going and the rest of the bats followed. In all, Free State finished with 11 hits in five innings, including three triples and Parker's homer.
Two of Free State's triples came on back-to-back at-bats in the third inning, as A'Liyah Rogers (2-for-4, one run, one stolen base) and Remington Samuels (2-for-3, one RBI, two runs) both found a gap in right-center and scored to bump Free State's lead to 4-1.
The Firebirds added two runs in both the fifth and sixth innings, with Whitney Rothwell smashing a two-RBI single down the first-base line in the fifth and Alex Hill and Samantha O'Brien picking up RBIs in the sixth.
"They hit the ball well today and had timely hitting, and we only got two runners to second base," LHS coach Nick Wood said. "That was the difference."
Although the score would indicate otherwise, Saturday's result was not a case of the Lions (3-12) playing poorly. Wood said he was pleased by the way his team battled throughout the game and even more pleased with his defense for making Free State earn everything it got. Carmona was particularly impressive at shortstop, gobbling up everything hit her way and quickly turning the threats into outs.
"I was really proud of the way we carried ourselves on the field and in the dugout," Wood said. "From the first pitch until the last pitch, we were locked in and we competed. That's what we need."
What the Lions did not need was the monster day from the Free State offense.
"We've been dying for a day like this," Ice said.
The second-inning home run for Parker, who scored twice and picked up a stolen base, was her second of the season and was never in doubt. As soon as she made contact, everyone in the park knew it was gone.
"It was one of those where you don't feel it," Parker said. "But I knew it was gone."
So which one felt better, her first round-tripper earlier this season or the one that changed the game on Saturday? Easy question.
"Definitely this one," she said. "It's LHS, you know?"
While Parker's bomb was highlight worthy, the impressive performance from FSHS pitcher Meredith Morris was more under the radar but just as crucial. After surrendering two hits and a run in the top of the first, Morris allowed just one hit (Kristen Gile) and three walks in the next six innings to improve her record to 3-2. She struck out six LHS batters and forced 10 ground-ball outs.
"She did a great job," Parker said.
Added Ice: "She threw no different today than she did (in a 2-1 loss against) Olathe East. That's what she's been doing all year long. I don't think she's had a bad outing."
Up next for Free State is a trip to Olathe North on Tuesday. The Lions also will return to the diamond Tuesday for a home game against Leavenworth.
Copyright 2018 The Lawrence Journal-World. All rights reserved. This material may not be published, broadcast, rewritten or redistributed. We strive to uphold our values for every story published.