Photo Gallery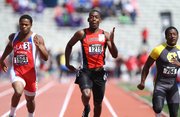 Kansas Relays 2012 (Friday)
Lawrence High senior Blake Hocking unleashed a 60-foot throw in the shot put Friday at the Kansas Relays.
Unfortunately for Hocking, it came during a warm-up session between the preliminary and final rounds.
"It was so frustrating," Hocking said, "but it shows there's a lot more (there)."
No worries. Hocking's second-best throw — a 59-foot, 4-inch toss — was still enough to win the event, taking the title by more than a foot.
"It's always nice to get a victory, especially at a prestigious meet like the KU Relays," Hocking said. "I would've like to do a little better, but it's all right. I'll still take the victory."
Hocking, who won the event for the second straight year, was only challenged once.
Right before Hocking's second throw, Baldwin's Dayton Valentine put the shot 58-2. Hocking nodded his head afterward, as if to accept the challenge.
"I was like, 'OK, let's step it up a little bit,'" Hocking said.
His next throw was 58-3, and he never gave up the lead after that.
Even after his best throw in the first round of the finals, Hocking shook his head in disgust as if he knew he could have tossed it farther.
"There's a lot more there for Blake to get," LHS coach Jack Hood said. "He knows it; I know it. We're going to keep working toward that."
Hocking's effort was just part of an impressive day for both Lawrence schools.
Free State coach Steve Heffernan said his team performed "fantastically" on a day two school records went down.
Kain Anderson took seventh in the boys 3200 with a time of 9:26.19. That trimmed 17 seconds off his personal record and 12 off the school's best mark.
The 4x400 relay team of Khadijah Lane, Bailey Sullivan, Courtney Huffman and Lynn Robinson also set a school mark with a 4:09.89.
Sophomore Alexa Harmon-Thomas added a victory in the high jump, clearing 5-6.
"She hasn't really started clicking in high jump, but she's very poised in competition and a good competitor. That showed today," Heffernan said. "She was able to pull out a championship without her best jumping."
Harmon-Thomas also placed third in the 300-meter hurdles in 44.93 seconds.
Another highlight came in Free State's final event, when DayShawn Berndt ran a 48.5-second split in the 4x400. Heffernan believed that would be the fastest split in the state of Kansas this year.
In addition, Free State's two medley relay teams finished with the top marks out of the Kansas schools.
For LHS, Steven Hill took fifth in triple jump, leaping 4-5. He has set a personal record in each of his last three meets.
"You've got to hit every phase and every spot in that triple jump, and he's just nailing it right now," Hood said.
Gari Jones added a personal record in the 100-meter dash, finishing in 11.08 seconds.
Copyright 2018 The Lawrence Journal-World. All rights reserved. This material may not be published, broadcast, rewritten or redistributed. We strive to uphold our values for every story published.