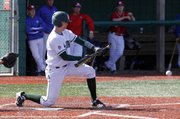 Even if it is contributing to the gray-hair count on their coaches' heads, Free State High's baseball players sure don't seem to mind.
Anthony Miele's infield single in the bottom of the seventh Friday scored Joel Spain and gave the Firebirds their second straight walk-off victory at the River City Baseball Festival.
The 6-5 victory over Bishop Miege at FSHS came less than 24 hours after an eight-inning defeat of Warrensburg (Mo.) and was Free State's third one-run win in a row.
Miele, who went 3-for-4 against the Stags, won the game by slapping a one-out pitch toward the right side of the infield with the bases loaded. Miege first baseman David White had to dive to stop the ball, making it impossible for him to throw to the plate.
Said Miele: "We had Joel Spain on third, who's a speeding bullet, so he made it home."
Although FSHS (6-6) began the season with a five-game losing streak, Miele said the Firebirds are a confident bunch who feel they can win in the clutch.
"We just love to make games interesting," he said with a grin.
Spain led off the seventh by rapping a Jackson Fowler pitch off the mound and reaching first with an infield single. Montana Samuels squared to bunt on the next Fowler delivery, but was hit by the pitch. Miege intentionally walked J.D. Prochaska, setting up Miele's game-winner.
Free State coach Mike Hill said his players have a knack for creating successful situations and capitalizing.
"They're growing up a little bit," Hill said. "They're kind of hard-nosed kids. They're scrappy."
That was true on the mound, too. FSHS started Ryan Cantrell, who usually throws relief. The sophomore put up four innings of one-hit baseball before Hill said Cantrell "ran out of gas" in the fifth.
For the second game in a row, junior Sam Hearnen entered from the bullpen and kept Free State's opposition in check. Hearnen gave up one hit and two runs in two innings for his second straight win.
"I just wanted to show coach what I could do," said Hearnen, who also has a pair of saves this year.
"I like being in that pressure situation, where the pressure's kind of all on me. It just makes me play as hard as I possibly can."
At 11:30 this morning at Kansas University's Hoglund Ballpark, Free State plays its festival finale against Branson (Mo.).
The Firebirds took a 5-1 lead with a four-run fourth inning. Though the FSHS lineup had just one hit against BMHS starter Danny Carr through three, Prochaska, Miele and Cameron Pope delivered three hits in a row to open the fourth.
Pope gave Free State a 2-1 lead with a bloop double. Joe Dineen plated two more runners with a single and later scored from third on a failed pick-off move to first.
An RBI groundout from Spain tied the game at 1 in the bottom of the third.
Copyright 2018 The Lawrence Journal-World. All rights reserved. This material may not be published, broadcast, rewritten or redistributed. We strive to uphold our values for every story published.