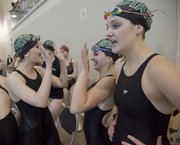 Friday afternoon was a busy scene at the Indoor Aquatic Center.
From celebrating 10 Free State High seniors to a tightly contested, three-way race for the meet title that came down to the wire and an impromptu T-shirt relay between the city's two high schools that capped it, the meet provided something for everyone to remember.
"That was fun," emotionally charged FSHS coach Annette McDonald said to her team after the Firebirds' relay team of freshman Eliza Anderson, junior Morgan Miller, sophomore Lucy Sirimongkhon-Dyck and freshman Courtney Caldwell won the final event of the night, the 400 freestyle relay.
Caldwell, who continued her sensational first season of high school swimming with victories in the 50 free, 100 butterfly and 400 free relay, swam a blazing split time of 50.72 seconds in that final loud and proud relay. The time inspired former LHS swimming coach Pat Grzenda to voice her opinion that Caldwell's leg of the relay was "scary fast."
Caldwell's teammates agreed.
"She's our star," senior Caroline King said. "She's got a great three years ahead of her, and she's only a freshman. That's the incredible part."
Asked if it was difficult for a team that includes 10 seniors to share the spotlight with a freshman, King shook her head and smiled.
"Not at all," she said. "We're happy to have the points."
About the only thing that could slow Caldwell down Friday was that T-shirt relay at the end. Four teams of four hopped into the pool wearing oversized shirts and swam one lap each. The shirt had to come off of one swimmer and fit onto another before the next leg could begin. Caldwell smiled sheepishly and said yes when asked if the T-shirt relay posed a challenge.
The Firebirds used the second-and-a-half victory over Washburn Rural in the final race to claim a five-point victory. FSHS finished with 228 points, Washburn had 223 and LHS 180.
"It's a lot more fun when it's close," King said. "That pushes everyone on both teams to do their absolute best."
Of the 18 seniors from the three schools, nine attend Free State. Joining King at the final regular-season home meet for the Firebirds were: Hana Arch, Maggie Arensberg, Miranda Davis, Hailey Freese, Allison Harwood, Paige Kallenberger, Katie Kimbrough, Kitty Tootle and Sharon Zavala.
All but three of the meet's events featured at least one FSHS senior, and most, including all three relays, had multiple Firebirds seniors participating. One of the events that did not include an FSHS senior was diving, in which no seniors participated.
Having so many FSHS seniors playing such a crucial role in the victory only added to the afternoon's special feeling.
"It was really a lot of fun to celebrate what everybody's done," King said. "I feel like we've had a really close team this year, and whether it was your first year on the team or your fourth year on the team, I think everyone got the chance to participate and make a whole new group of friends."
Although this meet was about celebrating the FSHS seniors, the LHS swimmers could not help but smile about the performance of their cross-town competitors.
"It was super, super intense," LHS senior Sierra Wilkens said. "But we both respect each other, and, being seniors, I think we have a bond."
While most senior nights include a heavy dose of hugging and crying, this one did not. There's a reason for that, according to Arch, who shaved four seconds off of her best backstroke time and hit state consideration time for the first time. Free State's pool will host the league meet in two weeks, so there's still one more to look forward to.
"That helps a lot," Arch said.
Copyright 2018 The Lawrence Journal-World. All rights reserved. This material may not be published, broadcast, rewritten or redistributed. We strive to uphold our values for every story published.