Editor's note: This is the third of three profiles of volunteers who were honored Tuesday as part of the United Way Roger Hill Volunteer Center's annual Celebration of Volunteers.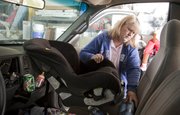 TA Mindrup has a bit of advice for adults trying to navigate the jungle of latches, straps and buckles on their child's safety seat: Duct tape doesn't fix everything. And it definitely is not a solution if you can't get the car seat to buckle.
As a certified car seat technician for Safe Kids Douglas County, Mindrup has volunteered for the past 14 years, helping parents make sure their children are buckled in correctly. And in those years, he's seen all kinds of creative — and downright crazy — ways parents have concocted to secure car seats.
"There is a proper way to do it, and no matter how you conglomerate it with belts, duct tape — none of it helps any," Mindrup said, laughing. "Every once in a while, I say I need a camera; I need a picture of this because no one will believe the story."
But after a lifetime spent helping people prevent accidents, first as the safety director for Westar Energy before his retirement in 1998, and then as a volunteer for Safe Kids Douglas County, Mindrup is thrilled when parents put their children's lives first by participating in a safety seat inspection.
And John Drees, the coordinator for Safe Kids Douglas County, is thrilled to have volunteers like Mindrup work alongside him and other coalition members to reduce the incidents of accidental injury and death of children. That's why Drees selected Mindrup as his agency's Volunteer of the Year for Lifetime Service as part of the United Way Roger Hill Volunteer Center's annual Celebration of Volunteers.
More than 65 individual volunteers and four groups of volunteers were applauded Tuesday during a volunteer recognition event.
Unintentional injuries are the leading cause of mortality and morbidity for children and adolescents in the United States, according to the Centers for Disease Control and Prevention. The goal of Safe Kids Douglas County is to reduce the number of accidents by educating parents and the community about child passenger safety, pedestrian and bike safety, water safety and more.
Every year, the group conducts about 600 individual car safety seat inspections and gives away about 200 car seats to families that cannot afford one. In addition, they provide approximately 1,000 free bike helmets to kids every year.
That translates into saved lives, reduced injuries and economic savings, Drees says.
"Studies show that communities with Safe Kids coalitions have lower numbers of morbidity," he said.
The collation couldn't do all this without the help of volunteers, Drees said. He's especially thankful for Mindrup, who has helped with nearly every aspect of the program, served on the board of directors and as the treasurer.
"TA has used his strong people skills and technical expertise and savvy to provide support and structure to the coalition through countless hours," Drees says. "He is now getting ready to retire … and we will miss him."
For Mindrup, volunteering to help keep kids safe just seemed like a natural extension of his career as a safety director. "There is satisfaction in sharing your knowledge and expertise with the community," he said. "It's a fulfillment of stewardship — giving back."
Copyright 2018 The Lawrence Journal-World. All rights reserved. This material may not be published, broadcast, rewritten or redistributed. We strive to uphold our values for every story published.