Free State High junior Lee McMahon stepped into the batter's box Thursday night at Hoglund Ballpark, ready to live out every baseball player's dream.
Tie game. Extra innings. Bases loaded. Two outs.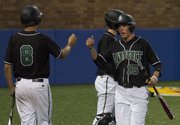 With three balls and two strikes against Warrensburg (Mo.) starting pitcher Aaron Kreitman, McMahon zeroed in on the pitch.
Ball four. The Firebirds won, 3-2, in eight innings on McMahon's walk-off walk.
"It's an interesting feeling," the junior catcher said after the fireworks-free ending. "I would've been happier with a base hit up the middle, but a walk gets the same job done. I'm just glad everyone brought it together on the field today."
FSHS coach Mike Hill wasn't complaining, either.
"It's a little melodramatic, isn't it? That's not the way kids draw it up when they're in the back yard playing as little guys," Hill said, "but we'll take it."
The Firebirds (5-6) put together their anti-climactic victory after sophomore Joe Dineen tripled with one out. With the game-winning run 90 feet from home, WHS coach Dave Liebnitz decided to intentionally walk the next two hitters, Joel Spain and Montana Samuels.
Then came a less conventional strategic move from Liebnitz, who brought his right fielder, Chase Leavy, in as a fifth infielder in an attempt to make a double play easier to turn.
The Tigers returned to their normal defensive alignment following a strikeout by JD Prochaska that gave FSHS two outs.
Dineen finally got the chance to touch home plate after McMahon's walk
"It's rare," Dineen said of scoring the winning run with a base on balls. "That's for sure. But it felt great."
Hill credited McMahon for taking four pitches after falling behind in the count, 0-2.
"Lee is making a lot of strides as a hitter," the FSHS coach said, "and he did a really good job of making sure what was thrown was something he could foul off, or if he couldn't foul off, take. I was proud of him."
The Firebirds led, 2-1, entering the seventh inning, but after relief pitcher Sam Hearnen gave up a one-out walk to Nico Codemo, the Tigers junior advanced to second on a passed ball and got to third on a groundout by Harrison Hill.
With two outs, WHS junior Matt Mayden tied the game with an RBI single to right field.
But Hill still liked what he got out of the junior Hearnen.
"That might have been the only bad pitch he threw," the coach said of the tying hit.
Between Hearnen's 2 2/3 innings of relief and starter Jacob Caldwell's 5 1/3 innings, Free State's pitchers gave up just four hits.
"Jacob's been fabulous his last two outings," Hill said. "His command has been great; his tempo's fantastic. He's not gonna go up there and blow it by you, yet he records several strikeouts."
Caldwell struck out five and Hearnen had one, but FSHS likes Hearnen for his defense. Hill said one of the reasons the Firebirds went with Hearnen was his pick-off move, which he executed for an out in both the sixth and eighth innings.
FSHS, Hill said, has needed big outings from its pitchers, "because we're a long way from where we need to be offensively."
Free State had five hits in its fifth victory in the past six games. Along with Dineen's three-bagger and a single, Prochaska doubled and both Samuels and McMahon delivered base hits.
Samuels drove in Dineen with a groundout in the first to tie the game, 1-1. In the fourth, Samuels put his team up 2-1 by scoring form second after the WHS defense mishandled the ball following a sacrifice bunt by Trent Johnson.
At 3 p.m. today at FSHS, the Firebirds play Bishop Miege.
Copyright 2018 The Lawrence Journal-World. All rights reserved. This material may not be published, broadcast, rewritten or redistributed. We strive to uphold our values for every story published.