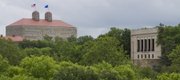 Subscribe to the email edition of Heard on the Hill and we'll deliver you the latest KU news and notes every weekday at noon.
• I was pleased to serve as the emcee for the Journal-World's annual Academic All-Stars luncheon on Tuesday (we're honoring some pretty spiffy high schoolers this year, as you'll see in Sunday's paper).
The speaker for the event was Neeli Bendapudi, dean of the KU School of Business. She — in her usual enthusiastic manner — gave some pretty good advice for the young students in the room.
One thing that stuck out to me in particular was the suggestion that the one course that all students should take in college is some kind of a personal finance class.
I've written about some of the horror stories that can come about from students taking on too much debt, which is just one of the financial pitfalls that can arise from not being all that financially savvy.
Bendapudi said she was lobbying to get a personal finance course as a requirement for all students at KU, but hadn't yet made much headway.
• A former KU dean of the College of Liberal Arts and Sciences is one of four finalists for a chancellorship at the University of Hawaii-Manoa.
Kim Wilcox, who also served a stint as president and CEO of the Kansas Board of Regents, currently is the provost at Michigan State University.
The other finalists are Robert Holub, chancellor of the University of Massachusetts at Amherst; Tom Apple, provost at the University of Delaware; and Carlo Montemagno, dean of the College of Engineering and Applied Science at the University of Cincinnati.
If you're going to go chancelloring about somewhere, I'd wager that Hawaii isn't necessarily too bad a place to do it.
• The University Daily Kansan filed this report on false alarms on campus. Many students who once lived in a residence hall can probably remember shivering in the cold after some false fire alarm.
The Kansan looked at how many were pulled maliciously, establishing that three were pulled in 2011 and 10 in 2010.
Of those, only one citation was issued.
"We investigate these the best that we can," KUPD Maj. Chris Keary told the newspaper. "A lot of times when we get there, we know what station was pulled but everyone is gone at that point, so establishing a suspect can be difficult."
The paper also mentioned that many times, alarms are triggered by other things like smoke from cooking.
• I promise… No more cooking in McCollum Hall for me, but in return, I'm expecting everyone there to send me a tip for Heard on the Hill to ahyland@ljworld.com.
Copyright 2018 The Lawrence Journal-World. All rights reserved. This material may not be published, broadcast, rewritten or redistributed. We strive to uphold our values for every story published.