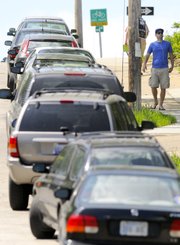 For once, parking wasn't a problem in the Oread neighborhood.
Lawrence city commissioners at their Tuesday meeting unanimously approved new parking regulations for large boarding houses located on small lots.
The new parking regulations still allow boarding houses of a certain size to essentially provide just one parking space for every two bedrooms, which is less than the one-space-per-bedroom requirement that exists for most traditional apartment complexes.
But the new regulations reduce the number of boarding houses that qualify for the special parking standards, and neighborhood residents said for that, they were grateful.
"I think this will give the residents more security about what the future holds for the neighborhood," said Carol von Tersch, an Oread homeowner.
Homeowners and owners of boarding houses in the Oread neighborhood have been debating the parking issue for months, but on Tuesday boarding house owners did not register any objections to the regulations. Commissioners had given preliminary approval to the new regulations several weeks ago and were hopeful they had struck a compromise.
The new regulations will only lessen the parking standard for boarding houses of 4,500 square feet or larger. Previously the lesser parking standards were allowed for boarding houses of 3,500 square feet or more. The city had supported the idea of a lesser parking standard as an incentive for investors to save large, old homes in Oread.
But residents balked when they learned about 80 homes in Oread would qualify for the lesser parking standards if the size threshold were set at 3,500 square feet. At 4,500 square feet, about 15 homes will qualify.
In other business, city commissioners:
• Approved on second reading an ordinance prohibiting RVs and other camperlike vehicles from parking in several public parking spaces near South Park. Two individuals who were opposed to the changes were escorted out of the commission chambers by police officers after making outbursts during the meeting.
• Approved $500,000 in funding to help with a proposed $10 million expansion of the Bioscience and Technology Business Center. Commissioners previously had given preliminary approval to the funding. The money is in addition to $1 million committed by Douglas County commissioners over a 10-year period and on top of $500,000 that the city approved last year.
• Approved a $30,000 contract with a Maine-based company to make improvements to the skate park at Deerfield Park.
Copyright 2018 The Lawrence Journal-World. All rights reserved. This material may not be published, broadcast, rewritten or redistributed. We strive to uphold our values for every story published.