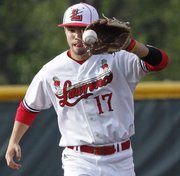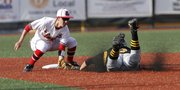 Five-and-a-half innings of scoreless baseball inspired Lawrence High senior Trevor Champagne to try something different.
A double, three old-fashioned base knocks, a bloop single, a pair of infield hits — nothing had worked for the Lions on Monday at home versus Shawnee Mission West starter Nick Thayer.
So Champagne did what he does best to lead off the bottom of the sixth, laying down a perfect bunt that got him on base and served as the prelude to Shane Willoughby's RBI single in a 1-0 LHS victory.
The strategy, Lawrence coach Brad Stoll admitted, did not come from him or any other coach in the home dugout.
"I had nothing to do with that," Stoll said with a grin. "That was completely Trevor Champagne, and that's the kind of kid he is."
Considering no one had crossed home plate all game, Champagne thought he might as well give bunting a shot, especially after grounding out and flying out in his first two at-bats.
"I hadn't been swinging it well all night, and that (bunting) has always been one of my special skills," the senior second baseman said, "so I try to utilize it as much as I can."
Off his bat, the ball rolled meticulously down the third-base line.
Stoll had a good look at the bunt once it came to a resting point.
"I think the seams were the only thing touching the line," the coach said.
LHS (7-3) already had left eight runners on base through five innings, so Stoll didn't mind using another bunt to get Champagne in scoring position. Lions senior Garrett Cleavinger, who had just entered the game in the sixth as a defensive replacement, sacrificed Champagne to second with a solid bunt of his own. After Thayer coaxed Lawrence's Kieran Severa to pop up, the Lions were down to their final out of the sixth when Willoughby, who had doubled and turned an infield chopper into a single in his first three plate appearances, entered the batter's box.
Vikings coach Todd Reed went out to the mound for a conversation with his starter before Willoughby smacked the first pitch he saw to center field.
With the speedy Champagne running on contact, Willoughby knew he had done the right thing by taking an aggressive cut on a letter-high pitch.
"They (Vikings outfielders) were playing so deep — they were taking all the doubles away — that I knew it was gonna drop," Willoughby said, "and I knew he would score."
That one run proved enough for a victory against SMW (5-3) because of Lawrence's pitching. Senior lefty Cameron Solko gave up just three hits and a walk in five innings that included three strikeouts. Stoll said Solko would've thrown longer if LHS didn't have a big weekend coming up with games Thursday, Friday and Saturday as part of the 2012 River City Baseball Festival.
"He needed to throw a lot of strikes," Stoll said of Solko, "so he could extend his outing, and he did just that."
Willoughby, who had only thrown a couple innings this season, relieved Solko and pitched in his first big spot of the year. The right-hander allowed a hit against the first batter he faced before retiring the next six. Just one of those was a strikeout.
"I know I have a great defense behind me," Willoughby said, "and all I want to do is pitch to contact, let them hit it."
Copyright 2018 The Lawrence Journal-World. All rights reserved. This material may not be published, broadcast, rewritten or redistributed. We strive to uphold our values for every story published.