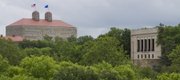 Subscribe to the email edition of Heard on the Hill and we'll deliver you the latest KU news and notes every weekday at noon.
Your daily dose of news, notes and links from around Kansas University.
• For those who missed it the first time, "A Midsummer Night's Dream" will be returning in Shakespeare's original pronunciation (an Early Modern English pronunciation that approximates how a play would've sounded in Shakespeare's day). Only with this performance, it is scheduled to be broadcast on the radio, at 7 p.m. Thursday on Kansas Public Radio 91.5 FM.
I wrote about this performance back in 2010
The same cast that did the show on stage will come back for this performance. It's still directed by Paul Meier, professor of theater and dialect guru.
He recommends you listen on stereo headphones to get the full effect.
The show can also be streamed live at kansaspublicradio.org.
I'll also share a video from back in 2010 that shows you a bit of what the experience is like.
• The Chronicle of Higher Education pointed the way to state-by-state data released by Excelencia in Education on Latino college completion.
In Kansas, which has the 26th-largest Latino population in the country, 17 percent of Latino adults, ages 25 to 64, had earned an associate's degree or higher. That compares with 41 percent of all adults in Kansas, the survey found.
The organization is isolating this data in the hopes that someone will take notice.
"Using data and analysis to identify factors that influence the success of specific student populations establishes the base line information from which to develop more effective policies, engage diverse stakeholders, and enhance the active and tactical responses needed to better serve Latino and all students," the organization said on its website.
• Here's your summer West Campus traffic alert, courtesy of an update I saw from the Office of Research and Graduate Studies. Road construction is scheduled on Constant Avenue, which will be closed (including intersections) from May 14 to Aug. 1 between 19th Street and Irving Hill Road.
You'll still be able to get to parking for affected buildings (like Youngberg Hall, Nichols Hall and the Research Circle) by using posted detours and temporary connections.
There's even a handy map for you to see where the trouble's going to be and when.
• Thanks to all those of who you submitted spiffy graduates for consideration for profiles this upcoming year. Keep submitting those or other tips for Heard on the Hill to ahyland@ljworld.com.
Copyright 2018 The Lawrence Journal-World. All rights reserved. This material may not be published, broadcast, rewritten or redistributed. We strive to uphold our values for every story published.