Lawrence's smallest elementary schools will stay open — for now.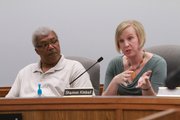 On Monday, the Lawrence school board voted 5-2 to not consolidate any of six elementary schools in east and central Lawrence. The decision came after two years of discussion and the recommendations of two separate community groups.  
"As of today, we can keep all schools open," school board President Mark Bradford said. But he cautioned the audience that had gathered in the board's chambers that circumstances could change.
Bradford — and many of the other school board members voting Monday — believed a bond issue was crucial to upgrade those small schools and a longer range plan was needed.
Bob Byers and Shannon Kimball were the only two board members who didn't want to close the door on consolidation.
Kimball said taking the option of consolidation off the table was a "little bit short-sighted." She asked how the district planned to reach a goal of having smaller class sizes and full-time support staff in each school without closing schools.
And, the option of consolidation would allow the district to be more flexible in addressing changes in the English as a Second Language program and shifting funding from the state Legislature, she said.
"I think by not continuing that discussion we are drawing lines that we might not be able to live by in the future," she said.  
Board member Vanessa Sanburn reminded the board that consolidation wasn't going to be the "golden egg" that would allow for elementary schools to hire all the staff they needed. That would take major changes from the state Legislature.  
"I don't think the benefits of consolidation outweigh the costs it would have on our community at this time," Sanburn said.
Monday's vote was spurred by the recommendations that the Central and East Lawrence Elementary School Consolidation Working Group handed over in late February. For more than six months, the group studied ways to reduce six elementary schools — New York, Cordley, Kennedy, Pinckney, Hillcrest and Sunset Hill — into three or four schools within the next two years.
The working group couldn't reach consensus. A little more than half of the members in the group believed the problems caused by consolidation didn't justify the money it would save. The other side believed closing schools was a valid option but didn't want to choose which buildings to close.
Ultimately, the entire group agreed the school district needed to ask taxpayers to approve a bond that would help repair and expand existing schools.
Mike Myers, a New York representative, was among those on the working group who advocated for not consolidating schools and was pleased with Monday's decision.
"I think this is looking forward," Myers said of board's decision.
Even those who pushed to consolidate schools, believing it was needed to keep school equitable, weren't surprised by Monday's vote. "I think whatever happens, it is important that the board come up with a sustainable, long-range plan for our schools. The key issues have been laid out there, so it is up to them to deal with those," Pinckney representative Stacey White said.
Copyright 2018 The Lawrence Journal-World. All rights reserved. This material may not be published, broadcast, rewritten or redistributed. We strive to uphold our values for every story published.