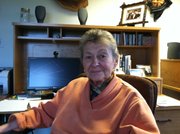 Later this month, members of a long-standing Lawrence study club will commemorate its 140th anniversary.
The club, Friends in Council, brings women together to discuss a variety of academic subjects. And it can trace its history all the way back to Quantrill's Raid, the state's first governor and Kansas University's first full-time woman professor.
Here's how the club works: Each year the group's members select a topic. This year the topic involves Kansas in the time of the club's founding, to commemorate the club's anniversary. Club members each write papers on the topic and present them at club meetings.
Papers have ranged from newspapers in America, clothes and fashion to painting and art.
Today, longtime club member Betty Laird serves as the club's historian. She said the club is the oldest such group in Lawrence, and members believe it's the oldest of its kind west of the Mississippi River.
"A lot of us have some connection to the university," said Laird, who taught freshman English classes at KU once upon a time.
Barbara Schowen, a retired KU chemistry professor, is the group's president.
"It's a wonderful group," she said. "I never had the time to do this when I was working."
Schowen said the group's upcoming five-year anniversary banquet will feature an "in memoriam" tribute for several members, toasts, speeches and a history of the club.
The club's founder, Elizabeth Perkins Leonard, was a New Englander who served as KU's first full-time woman professor after being hired in 1869.
Leonard was KU's fifth faculty member and taught modern languages, including French and German, and painting and art.
Laird said Leonard was in Lawrence during the time of Quantrill's Raid, staying with her close friends Charles and Sarah Robinson. Charles served as the state's first governor.
Leonard came to Lawrence from Quincy, Ill., where Friends in Council began. She helped the city recuperate from the raid, doing some cooking and tending to the injured and dying.
"It must have stayed with her all her life," said Laird, who has studied Leonard and written a play about her life.
The club was founded in 1871, and the first topic centered on Scottish philosopher Dugald Stewart and his work, "A general view of the progress of metaphysical, ethical and political philosophy."
"They probably considered it a way of bringing culture to this town" at the time, Laird said.
The topics are a bit lighter these days, she said, but the group's members still enjoy learning new things.
"The satisfaction is being associated with something that's worthwhile," Laird said.
Copyright 2018 The Lawrence Journal-World. All rights reserved. This material may not be published, broadcast, rewritten or redistributed. We strive to uphold our values for every story published.