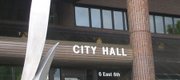 Subscribe to the email edition of Town Talk and we'll deliver you the latest city news and notes every weekday at noon.
News and notes from around town:
• Sometimes what doesn't happen at Lawrence City Hall can be as interesting as what does. What won't happen this week is a key vote on a proposed multi-story hotel and apartment building at the southeast corner of Ninth and New Hampshire streets.
For the second time since late March, city commissioners are delaying a public hearing and vote on the controversial project. The hearing and vote now are scheduled for April 24. As you likely remember, the project — proposed by local businessmen Doug Compton and Mike Treanor — has drawn stiff opposition from several neighbors who say the building is too tall and too massive to be adjacent to the historic neighborhood along Rhode Island Street. On two occasions, the city's Historic Resources Commission has agreed with that assessment.
So, enter city commissioners into the fray. The developers have appealed the ruling of the HRC to the City Commission, and I get the sense that some city commissioners are becoming less enthused by the minute to be the arbitrator of this issue.
The appeal has been scheduled for weeks now, but hasn't happened, in part, because the city is still waiting for a key financial report related to the project. The city has hired an outside consulting firm to study whether the project requires a host of requested financial incentives in order to be financially feasible.
I've been told by one key commissioner (when there are only five, they're all kind of key) that the report's results will be a particularly important part of his decision-making process.
But I think some commissioners want the report to go beyond reviewing the feasibility of the financial incentives — a special 1 percent sales tax and a new TIF district are the major requested incentives. Instead, I think some commissioners want the report to weigh in on whether the combination hotel/apartment project must be as physically large as proposed in order to be financially feasible. The development group has said it has made the building as small as possible while still being feasible. Some commissioners are going to want outside proof of that.
I haven't gotten a good sense from all five commissioners about where they stand on this issue, but I can tell you I have heard pretty clearly from two who are concerned about the height and mass of the building.
A few weeks ago, I would have told you the chances of the project winning City Commission approval were pretty good. I can still see scenarios where it will, but I think the margin of error for the development group is shrinking.
Right or wrong, one commissioner also told me he thinks the development group would now consider moving the project across Ninth Street, to the northeast corner of Ninth and New Hampshire, which is not adjacent to a residential neighborhood. The development group has never said anything like that publicly, but there had been a rumor that Compton was in some real estate discussions with Black Hills Energy, which currently owns much of that corner. Neither party confirmed those discussions, but they also didn't do much to quash the rumor either.
To top it off, I think city commissioners are getting the feeling that this issue ultimately won't be settled at City Hall. The neighborhood group has hired Lawrence attorney Ronald Schneider. He's the attorney who has successfully represented neighbors near the Lecompton interchange who are concerned about heavy industrial zoning in that area. As one commissioner told me: "There's going to be a lawsuit on this either way."
City Hall officials, I'm told, have arranged for a court reporter to be present on April 24 to record every word of the city's deliberations on the matter.
• Well from a multimillion-dollar hotel to a slightly different type of lodging accommodation — recreational vehicles parked along Massachusetts Street. City commissioners are set to talk about the two R.V.s that day-after-day park in the on-street parking spaces on the west side of Massachusetts Street near South Park.
At their Tuesday meeting, commissioners will consider approving an ordinance that prohibits the parking of any camper, travel trailer, or recreational vehicle on the parts of Massachusetts, Vermont or South Park streets that are near South Park.
Violation comes with a $50 fine per day, and after the second violation, the city can tow the vehicles.
As we reported back in November, two Lawrence men basically had set up residence in the parking spaces along Massachusetts Street.
One of the men is Michael Tanner, a local street musician who has been in several disagreements with the City Commission. Most notably, he was the fellow who constructed a homeless camp near the Kansas River, just north of the Santa Fe Depot in East Lawrence. City officials razed that camp several years ago, and Tanner has said many times that he has never forgiven the city for that.
So, what fireworks we lost with postponement of the Ninth and New Hampshire project likely will be replaced by this one.
In a memo to commissioners, city staffers said they have received several phone calls recently regarding the health and safety risks posed by the parking of the vehicles, although the city doesn't get too specific about what those risks are.
The area near South Park soon will be getting more traffic, and likely more demand for parking. The administrative offices for the city's Parks and Recreation Department are slated to move in the former South Park Recreation Center in early May.
• I always suspected we were living in a haven of something. Come to find out, it is a Midwest retirement haven. At least according to the folks from Where to Retire magazine, Lawrence is one of eight "Dynamic Heartland Havens."
Lawrence will be featured in the magazine's May/June issue, which hits newsstands on April 17. Lawrence made the list with these other cities: Branson, Mo.; Madison, Wis.; Woodstock, Ill.; Grand Rapids, Mich.; Bellevue, Neb.; Ames, Iowa; and Bloomington, Ind.
Several in the city will be grateful for the recognition. If you remember the city and county have created a Retiree Attraction Task Force that is working to make Lawrence more of a retirement destination. That group wants to hear your ideas on the subject.
The task force will hold a public forum from 4 p.m. to 6 p.m. on April 16 at City Hall to hear ideas about what would make the city more attractive to retirees. The task force hopes to deliver a set of recommendations to the city and county commission by the end of May.
Copyright 2018 The Lawrence Journal-World. All rights reserved. This material may not be published, broadcast, rewritten or redistributed. We strive to uphold our values for every story published.