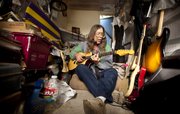 Michael Tanner, 52, has spent years trying to live rent-free in Lawrence, and he seems to have finally found the answer.
Tanner lives in a 16-by-8-foot wooden structure — built on a trailer attached to a van — that he moves around the downtown area just often enough to avoid violating any city parking ordinances.
Inside the structure, which he simply calls a "shack," Tanner shows off his shelving, collection of guitars and sleeping area.
"I feel a great sense of accomplishment," said Tanner about his craftsmanship. "It's a good, solid structure."
Tanner said he likes being self-reliant, and since being evicted from an apartment in 2007, has eschewed homeless shelters. After being kicked out of a wooded area along the Kansas River by city crews in 2008, Tanner, who was violating the city's illegal camping ordinance with several others, started working on his most recent project.
"I'm free," he said. "It's my home."
And at least one other person, Tom Wiles, a 65-year-old retiree, lives in a similar structure. Wiles made his 11-by-7-foot mobile home, which is also a wooden structure pulled by his van. Wiles said he's on his third such home; his first was washed away in a flood in Iowa in 2010.
While Tanner seems to relish the freedom his mobile home gives him, Wiles' reasons focus more on money.
Wiles said he always wanted to build his own home on property in the country. The problem? He couldn't afford it.
"This is a lot cheaper," said Wiles, a veteran who subsists on a monthly disability payment.
They've both figured out ways to legally park their mobile homes downtown.
"I spend a lot of time at City Hall," said Tanner of reading zoning maps and city codes.
In nonresidentially zoned areas of Lawrence, such as a strip of parking on Massachusetts Street in front of South Park, people are allowed to park large vehicles — defined as a vehicle more than 20 feet long and 8 feet tall — for 48 hours at a time. Tanner parks somewhere for a day, then moves to another spot in a nonresidential area. Wiles, meanwhile, pays the meters during the day, then finds a friendly parking lot or open street at night.
City officials have had discussions about the vehicles, said Chad Sublet, city of Lawrence attorney. But neither Tanner nor Wiles is breaking any law, Sublet said. And there haven't been any reported problems.
"We don't have citizens calling complaining about this," Sublet said.
For now, the trailer is Tanner's home, and he scoffs at people who call him homeless.
"I'm offended when the court addresses me as transient," said Tanner, a street musician, who on a recent weekday was at the Douglas County Courthouse fighting a noise complaint.
Wiles and Tanner both said they've found ways to get by without modern amenities, such as running water. They use city facilities to take showers, and eat meals at area social service agencies. Wiles uses an electric blanket to keep warm at night; Tanner, a propane tank.
Tanner, however, acknowledges the drawbacks of not having a traditional home or apartment.
There's the heat in the summer, which can get suffocating without windows, and the constant maintenance of the structure, which gets more difficult as he gets older, Tanner said.
As he shows off his guitar collection, all gleaned from trash bins across Lawrence, vehicles whiz by the structure, causing it to sway back and forth. That never ends, he said, but he's used to it.
"It kind of rocks me to sleep," he said.
Copyright 2018 The Lawrence Journal-World. All rights reserved. This material may not be published, broadcast, rewritten or redistributed. We strive to uphold our values for every story published.