With a loss, a tie and a win Thursday at its home quad, Lawrence High's boys players experienced every possible outcome. The process taught them they aren't quite where they want to be overall.
Though the mood at least improved as the afternoon progressed — the Lions followed a 3-1 loss to Topeka Seaman with a 2-2 tie against Topeka Washburn Rural and a 4-0 victory over Topeka West — LHS coach Chris Marshall said his team needs to sharpen some things.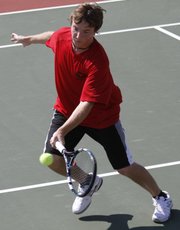 "We're playing better tennis. We're playing smarter tennis," he said. "We're just still a little rusty and just missing some shots. We had our opportunities and just have got to learn how to put people away and be more efficient in our game."
One Lion who didn't run into much trouble at the quad was No. 1 singles player sophomore Thomas Irick, who went 3-0. He said an improved mental approach would lead to more success for LHS.
"Tennis is 80 percent mental, 20 percent physical," Irick said. "You've just got to be able to know what you want to do, know where you want to place the ball at a certain time, when you want to."
Irick knew exactly what he was doing in a dominating 8-0 victory over West's Patrick Lacy to end his day. After Irick went up 30-0 in the fourth game, Lacy tossed his white Nike tennis cap into the fence behind him in frustration. Then Irick scored the next two points, ending the game with an ace.
It was the sophomore's intention to frustrate his opponent at every turn.
"I keep letting him beat himself rather than having me have to beat him," Irick said.
LHS junior Victor Andrade, a foreign-exchange student from Franca, Brazil, also was unbeaten in singles play. He won both of his matches and was happy the quad had been rained out Wednesday and postponed until Thursday. Andrade had been in Washington visiting a fellow exchange student, and his flight home Tuesday was called off. He thought he wouldn't be able to play tennis, his favorite sport, for the Lions this week.
Andrade was at the airport, waiting to come back to Kansas, Wednesday when Marshall let him know the good news.
"I was lucky," Andrade said. "Sometimes that happens."
Lawrence was more good than lucky in singles play at the quad, going 5-1. Pace Leggins was the only LHS singles player to lose a match.
However, after seeing his team go 2-4 in doubles play, Marshall said the Lions only had themselves to blame.
"Tennis is a very unique sport," the coach said. "A lot of it is not really your opponent. It's you setting it up and controlling yourself, so most of the battle is a lot of times against yourself."
Once Marshall finds the right combination of players for the doubles teams — Matt Grom and Matt Mikel were No. 1 in a victory against Topeka West, and Randy Walter and Leggins beat TWHS as No. 2 — he thinks the Lions should be in better shape.
"We're trying to figure out the best quality team I can put out there, and I still haven't quite located it," Marshall said.
At 3:30 p.m. Tuesday, LHS will play at Free State.
Copyright 2018 The Lawrence Journal-World. All rights reserved. This material may not be published, broadcast, rewritten or redistributed. We strive to uphold our values for every story published.