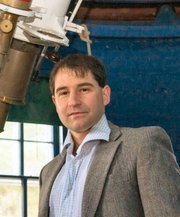 What's at the end of the universe?
It's a question that Idan Ginsburg remembers asking years ago as an elementary school student attending a summer course at Kansas University. As he recalls, the college students leading the session didn't give a very satisfying answer.
"I'm still studying that question," Ginsburg said. "I think we all are."
Ginsburg, who is a 1994 Lawrence High School graduate, has gained attention from the likes of National Geographic and Time magazines for his recent research that sheds light on the outer reaches of the universe. Born in Israel, Ginsburg grew up in Lawrence, and his parents, Esther and Shlomo Ginsburg, still live here.
With the help of computer simulations, the Dartmouth astronomer studies what he thinks are planets being flung out of a black hole like a rock out of a slingshot.
Since 1988, scientists have theorized that the massive black hole at the core of the Milky Way can separate pairs of stars that orbit each other and get too close to the black hole's gravitational force. The theory is that one of the stars is swallowed up by the monstrously large black hole while the other one is flung out on a path that will take it to intergalactic space. The star being ejected is known as a hypervelocity star and travels at speeds of up to 1.5 million miles per hour.

In 2005, the first hypervelocity star was found; since then 20 others have been counted.
Ginsburg co-authored a paper that will be published in the Monthly Notices of the Royal Astronomical Society. Ginsburg spent time studying at Harvard before going to Dartmouth almost five yeas ago.
Through computer simulations, the research shows that planets are also being ejected out of the galaxy when the stars they orbit get too close to the black hole.
"That says a lot about planetary evolution at the Galactic Center," Ginsburg said.
Ginsburg theorizes that planets could remain in transit around a hypervelocity star that is ejected out of the black hole.
Computer simulations also show that just as orbiting stars get separated in the black hole, a planet could be ripped apart from the star it orbits and sent flying out of the galaxy at high speeds. Those rogue planets could be moving as fast as 30 million miles per hour.
"It's at a speed we can't even imagine," Ginsburg said.
Eventually, Ginsburg said, astronomers should be able to detect the hypervelocity planets that transit stars, because the star will grow dimmer as the planet passes in front of it.
"I'm sure sooner or later people are going to be looking for these. And I think it is something definitely worth looking for," he said.
Right now, astronomers don't have the tools to spot the lone planets rocketing through the galaxy.
Ginsburg is glad others are taking note of his work.
"It's nice that people are interested in our research. We like to share what we do with the public," he said.
Copyright 2018 The Lawrence Journal-World. All rights reserved. This material may not be published, broadcast, rewritten or redistributed. We strive to uphold our values for every story published.