They were all wearing the same uniforms, but Lawrence High's girls soccer players just couldn't get much else going in unison Tuesday night.
The Lions failed to connect as a unit throughout a defensive-dominated home match with Olathe North, and fell, 3-1.
LHS sophomore Addison Campbell scored her team's only goal in the first half, but little else went the team's way, coach Janna Kepler said.
Photo Gallery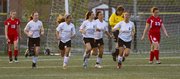 LHS soccer vs. Olathe North
"It just felt like we were on our heels the entire game," the first-year Lawrence coach explained. "It didn't seem like we came out wanting to win the game. It was a game that was very much a possible win. They (the Eagles) finished just one place ahead of us last year in the conference, but for some reason, just as a whole, we weren't present."
Ella Magerl, a junior Lions defender, said there were too many problems — specifically a lack of continuity — for LHS (1-2) to get a victory.
"We had our defense, our midfield and our forwards and it was all separate. We weren't working together and we weren't connecting," Magerl said. "We just weren't playing our game. We weren't on top of it. We needed to wake up and get some fight in us."
The most disappointing part of the Lions' second straight loss, Kepler added, was the lack of energy.
"The entire team seemed to be, I don't know, like a half-second behind the entire game," she said.
Lawrence had played much better a week before, in its 5-0 season-opening win, Magerl said. Just seven days before, the Lions had played with more confidence and showed more strength than they did against O-North.
In the first half, though, Magerl said there at least was a glimpse of a better brand of soccer — the kind LHS wants to play for much longer stretches in the future.
"We had about like 10 minutes in the game where we were pushing them and they were on their heels, and they were getting nervous, and we were attacking," Magerl said. "When that happened we were making good passes, connecting, being smart with the ball."
Kepler, too, said there were some good signs, but even those couldn't be brought up without the coach being reminded of another shortcoming.
"I think we made some connections through the center today that we weren't making before," she said, "but our outlet passes to the wing were not there."
The Lions' strength, Kepler said, is on the outside, and they failed to take advantage of that.
While the two-goal loss was a step backward, the coach said LHS will have to keep building.
"Playing as a team, as a unit, it takes a long time just to even get to that flow," she said.
It will be up to the players, Magerl added, to make sure that eventually happens.
"I think we're getting there," the junior defender said. "Obviously there's room for improvement, but we just need to keep building up and not take a step back."
At 7 p.m. Thursday, Lawrence plays at Shawnee Mission Northwest.
Copyright 2018 The Lawrence Journal-World. All rights reserved. This material may not be published, broadcast, rewritten or redistributed. We strive to uphold our values for every story published.