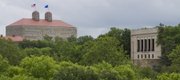 Subscribe to the email edition of Heard on the Hill and we'll deliver you the latest KU news and notes every weekday at noon.
Your daily dose of news, notes and links from around Kansas University.
• We start with a cautionary tale that comes courtesy of an alert Twitter tipster (a Twipster?) that essentially is a reminder to make sure the people you're following are who you think they are.
I'm pretty sure that basketball players Tyshawn Taylor and Thomas Robinson really are on Twitter, using the accounts @_tee_y and @Trobinson0.
A few others have sprung up, posing as the real deal. And I'm pretty sure people using the accounts @tee_y_ (just flipped the underscores around a bit), and @TROBlNSON0 (swapping a lowercase "L" for the "I" in Robinson) are not really the real basketball players, but they're acting like them on Twitter. (UPDATE: Those fake accounts were taken down after I and others mentioned them on my own Twitter accounts. A similar account, a presumably fake @JeffWitheyKU instead of the presumably real @JeffWithey, was still up early Wednesday.)
They'd managed to attract quite a few followers, too, as of Tuesday afternoon.
The presumably fake Thomas Robinson tried to stir up some talk by sending out messages indicating he might be thinking about staying one more year.
The lesson? Be a careful consumer of tweets.
• Here's another story in the New York Times on coaching salaries from KU journalism professor James Gentry and KU business associate professor Raquel Alexander, who was also on "This American Life" this week, as you might remember from Tuesday.
This article points out the differences in salaries for men's and women's basketball coaches. The most successful women's coaches — like Tennessee's Pat Summitt and Connecticut's Geno Auriemma — can pull down $2 million or so, they report.
But that's not typical. The median men's basketball head coaching salary was $329,300 in 2010, compared with $171,600 for women.
There's lots more information in the article.
• I spotted that Sarah Stern, a Lawrence native and KU student, was named as one of Glamour magazine's Top 10 College Women for 2012.
Stern, 20, is majoring in Latin American studies and journalism at KU, and "she rules," the magazine said, in part because she's really into photography.
She started her own business in Lawrence at the age of 15, and danced the samba and photographed the big Carnaval parade in Paraguay.
In the future, Stern hopes to develop Latin American businesses while being sensitive to local cultures.
• Keep sending in those great tips (or twips) for Heard on the Hill to ahyland@ljworld.com.
Copyright 2018 The Lawrence Journal-World. All rights reserved. This material may not be published, broadcast, rewritten or redistributed. We strive to uphold our values for every story published.