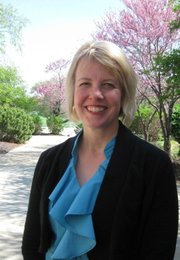 Kristen Ryan, a learning coach for the Lawrence school district, has been named the new principal at Southwest Middle School.
Ryan, whose appointment is pending approval by the school board, will replace longtime Southwest principal Trish Bransky. Last month, Bransky announced her retirement, effective at the end of this school year. She had been principal of Southwest since the school opened in 1995 and has spent more than 40 years in education.
In a written statement, Superintendent Rick Doll said Ryan will be an asset to Southwest as the school continues its transition from a junior high to a middle school.
Ryan has spent the past four years as a learning coach in the district, mentoring teachers new to the district and profession. Before taking that job, Ryan was principal at Clay Center Community Middle School for four years. She also was an assistant principal at Leawood Middle School in the Blue Valley school district, and she taught sixth- and eighth-graders for six years in Augusta, Manhattan and Clay Center in Kansas and in Webb City, Mo.
In 2011, Southwest earned the Governor's Achievement Award in 2011 and was named "Exemplary Middle School" by the Kansas Association of Middle School Administrations in 2010. Students' performances in last year's state assessments on reading, mathematics and science earned the school the Kansas Standard of Excellence.
Ryan is slated to begin her tenure as principal at the start of next school year.
Copyright 2018 The Lawrence Journal-World. All rights reserved. This material may not be published, broadcast, rewritten or redistributed. We strive to uphold our values for every story published.