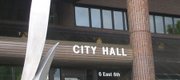 Subscribe to the email edition of Town Talk and we'll deliver you the latest city news and notes every weekday at noon.
News and notes from around town:
• Don't tell me the price of everything is going up. The price of golf may soon be going down in Lawrence. City commissioners at their meeting on Tuesday will consider significantly dropping the green fees at the city-owned Eagle Bend Golf Course. Parks and Recreation leaders have been examining the course's fees, and have found that many of its competitors have dropped rates in an effort to compete in the down economy. The end result is that Eagle Bend now has some weekday rates that are nearly as high as the weekend rates of courses like Lake Shawnee, Cypress Ridge in Topeka and Village Greens at Lake Perry. The number of rounds played recently at Eagle Bend has kind of been like my putting game — in a slump. (Unfortunately, my putting slump is not a recent development.) Anyway, here's a look at some of the proposed rate changes:
Weekday rates for 18 holes without a cart would drop from $20 to $15. 18-holes with a cart would drop from $36 to $25.
Weekend rates would not change in term of price, but the course's definition of the weekend would. Currently the course charges weekend rates Friday through Sunday and on holidays. The new policy would remove Fridays from the weekend rate schedule. Friday play would be charged the weekday rate.
The course also would introduce a senior, weekday rate for golfers 60 and older. Those rates would be $13 for 18 holes without a cart and $23 for 18 holes with a cart.
The annual pass program also would change. Currently an annual pass is $750, but it entitles you to golf only on Monday through Friday. The new annual passes would be good any day of the week. Proposed rates are $1,000 for golf only, $1,200 for golf and driving range, and $1,500 for golf, driving range and cart rental.
What these changes will do to finances of the golf course is kind of tough to say. The course ran at about a break even level last year, and is projected to break even or perhaps lose about $15,000 this year. (Caveat: When figuring the profit and loss for the golf course, the city does not consider the debt payment that must be made. That's paid out of a separate fund. The course also has some other expenses subsidized, mainly its city water bill.) Those profit and loss numbers are down from 2009, when the course had about $40,000 more in revenues than it has in expenses. Parks and Recreation leaders clearly are trying a volume-based approach — lower the fees and attract more users. Hopefully it works better for them than it has for me. Anybody who has seen my scorecard could tell you I've been trying a volume-based approach when it comes to golf for a long time.
• I don't know why the thought of volume-based approaches made me think of a bar, but it did. As I reported earlier, the long-time Jet Lag Lounge at Sixth and Florida streets is no more. The location now is home to R Bar & Patio. When we previously reported the item, I hadn't caught up with the owners. But now I have. The ownership group is headed up by Jake Brown, a Lawrence resident and owner of an area construction firm, and James Shaffer and Scott Newell, who also are part of the ownership group of the Phoggy Dog near 23rd and Iowa streets. Brown said there had been some confusion about whether R Bar & Patio is part of a chain or something like that because there are establishments with similar names in Kansas City and elsewhere. He said the Lawrence establishment has no connection to those. Instead, he said the group is just trying to create a "new vibe" for what used to be The Jet Lag Lounge — which was an old school watering hole that opened at 9 a.m. every morning. (What? If you drink it with tomato juice, it is almost like having a V-8 for breakfast.) R Bar & Patio has changed the hours to 3 p.m. to 2 a.m. on weekdays and from 11 a.m. to 2 a.m. on weekends. The layout and decor also have changed.
"I would say we're going after a more contemporary feel," Brown said.
The new layout involved tearing out several interior walls to more than double the seating capacity, adding hand-scraped walnut floors, new pub tables, new bathrooms, and increasing the number of beers on tap from two to 12. The group also added two large, glass, overhead garage doors that open up onto the patio area.
But the changes do mean an end of an era. According to Brown — who used to work at the Jet Lag in college — he thinks The Jet Lag had been in business since 1962. A fire in 2000 closed it for awhile and led to a remodeling.
"We knew the manager for a long time, and we had told him that if he was ever interested in selling, we were interested in buying," Brown said. "Then one day he said was."
• I don't think you need a tie to enter R Bar & Patio, but if you want one there's now a new option in town. As we have reported several times, Jos. A. Bank is opening a new factory outlet store at Seventh and Vermont streets. Well, its first day in business is today. In addition to being another national retailer in downtown, it adds to the rank of businesses that are bringing later evening hours to downtown. The store's hours will be from 10 a.m. to 9 p.m. on Monday through Saturday and noon to 5 p.m. on Sunday. It also will add a few new jobs. George Ghartey, regional sales director for the store, told me that it will employ about eight people. He also shared with me that the store hopes the outlet concept of the location will attract shoppers from a 100-mile radius. Jos. A. Bank operates several stores in the Kansas City metro area, but this is the company's first outlet store in Kansas.
• If you walked in late to the city's Solid Waste Task Force meeting earlier this week, you might have found yourself confused. (Actually, if you voluntarily go to a Solid Waste Task Force meeting, that's a clue that everything may not be working right upstairs.) But what I'm talking about is a comment by Mayor Aron Cromwell. A city staffer asked him about his availability for today, and he responded with, "Well, I've got to do that bank robbery." That's what we in the business call a good quote when it comes from anyone, but a very good one when it comes from an elected official. But don't worry, that's not the city's plan to balance the 2012 budget. Instead, Cromwell was referring to the re-enactment of a Clyde Barrow bank robbery that will be staged in Downtown Lawrence tonight. Cromwell won't actually be the robber. He'll portray the bank president who got an up close and personal look at Mr. Barrow and the shotgun underneath his trenchcoat. The re-enactment will take place at Teller's, 746 Mass., which occupies the building where the First National Bank of Lawrence was located when it evidently was robbed in 1932. You will be able to see some of the re-enactment from outside, and also see a sweet antique Ford that is being used as the get-away car. I would suggest you get down there well before 6:30 p.m., if you want to get a spot on the sidewalk. There also will be a host of art events downtown tonight as part of the Final Fridays series.
Copyright 2018 The Lawrence Journal-World. All rights reserved. This material may not be published, broadcast, rewritten or redistributed. We strive to uphold our values for every story published.