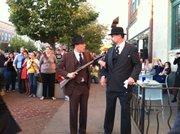 Lawrence Mayor Aron Cromwell learned firsthand Friday evening there are things more menacing than mudslinging political opponents.
Playing the part of the president of First National Bank, Cromwell had cold steel pressed to his chest as part of a re-enactment of a 1932 robbery.
The robbery was said to have been orchestrated by Clyde Barrow and partner Ralph Fults. Fults told his biographer it was the job that got Barrow into the bank-robbing business, though no other evidence proving the robbery happened is known to exist.
Cromwell was walking near the intersection of Eight and Massachusetts streets when he was accosted by Shawn Trimble, who played Barrow, and Ray Remp Jr., who played Fults.
They ordered Cromwell to unlock the door to the bank, where Teller's restaurant now stands. The men retreated inside for a few minutes, as the famous bank robbers' voices boomed through the Teller's sound system, narrating to the crowd outside the robbery as it happened.
"Well we sure have appreciated doing business in your fair city," Trimble said. "My name's Clyde Barrow. I have a feeling you'll be hearing more from me."
After pretending to take $33,000, the robbers made their getaway in a 1933 Ford sedan, which had been used in the film "O Brother, Where Art Thou?"
The audience cheered. "We're in the Money" played.
Though Barrow's famous partner and love interest Bonnie Parker was not involved in the robbery, a member of Theatre Lawrence was on hand to play her. She could be seen in the crowd, as could other actors decked out in 1930s clothes. One played Barrow's other accomplice, Ray Hamilton, and several others played bank tellers.
Copyright 2018 The Lawrence Journal-World. All rights reserved. This material may not be published, broadcast, rewritten or redistributed. We strive to uphold our values for every story published.