Photo Gallery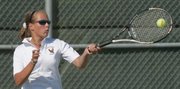 LHS-FSHS tennis
When their matches finished, a few Free State and Lawrence High tennis players paired up and exchanged pleasantries with each other.
Some suggested they should hang out outside of tennis.
Host FSHS won Thursday's dual against cross-town rival LHS, 6-3, but you couldn't tell who had won and who had lost. The so-called "rivalry" didn't seem to exist.
"A lot of it is manufactured by adults, and it's not something that is passionately felt by the kids," FSHS coach Oather Strawderman said.
During the matches, the camaraderie existed, but without words. The girls weren't allowed to speak to each other in the competitive atmosphere, which was difficult for some of the players.
The LHS doubles team of Taylor Eubanks and Abby Gillam won a marathon match against the FSHS duo of Emily Sadosky and Alexis Czapinski, 8-7 (10-8). The girls wanted it to be less formal.
"We really like the other girls," Eubanks said, "so it's really sad when we have to go against them."
Gillam agreed and said she wants the best for her opponent just as well as her own team.
"In some scenarios, I'll be in my head cheering for both," she said.
After the Firebirds finished fourth in the Sunflower League tournament Tuesday, there was a bit of a hangover lingering into Thursday's doubles matches, where the Lions, who finished seventh at league, won two out of three.
The singles matches all went in favor of the Firebirds, except for Brooke Braman of LHS beating Alita Joseph from FSHS by default after Joseph injured her hand.
Regardless of the disparity in the teams' records, LHS coach Chris Marshall said his team played for every point, and he was proud of the effort.
"It's nice when games are competitive," he said. "And that's what it's about."
FSHS's Caitlyn Tilden said it was like a match between friends.
"It's a fun day," she said.
Copyright 2018 The Lawrence Journal-World. All rights reserved. This material may not be published, broadcast, rewritten or redistributed. We strive to uphold our values for every story published.