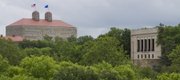 Subscribe to the email edition of Heard on the Hill and we'll deliver you the latest KU news and notes every weekday at noon.
Your daily dose of news, notes and links from around Kansas University.
• I've heard lots of chatter about enrollments this week, and I've done a couple of stories on the facts and figures.
I wrote about the breakdown of the ups and downs of enrollments by school, and received an interesting response from Steve Case, the co-director of KU's UKanTeach program.
First, a reminder for those of you not in the know. UKanTeach is a program that allows students to obtain a secondary math or science teaching certificate along with a traditional bachelor's degree from those areas.
Case — likely noticing the 6.4 percent dropoff in the School of Education's enrollment — pointed out that may be because the UKanTeach program (housed in the College of Liberal Arts and Sciences) is growing so rapidly.
"Our success may come at the expense of the School of Education since our students are getting degrees in their discipline," he wrote to me in an email.
Growth, he said, is the UKanTeach program's biggest hurdle at the moment. He anticipates 40 students will graduate this year in December and May, and close to 70 next year. About 400 students are involved in the program today, he said.
An interesting point.
• One enrollment success story can certainly be found out west at Fort Hays State University.
FHSU posted the largest percentage increase of all the six state universities, a 7.7 percent increase to 12,802. They added 919 students overall.
They have an interesting mix of students spread out over three main areas:
• Its Virtual College, which has 4,504 students and grew by 495 students, or 12.3 percent.
• Students at partner universities in China. Enrollment there grew by 156 students, or 4.5 percent, to 3,615.
• Traditional on-campus enrollment, which grew by 268 students, or 6.1 percent, to 4,683.
Kent Steward, a FHSU spokesman, pointed out to me that in a way, FHSU's accounted for the growth in the Kansas Board of Regents system.
Across the entire system, which includes 32 community colleges, state universities and technical colleges, enrollment grew by 856 students.
He's right in that if FHSU had stayed the same or lost students, the system would have lost students overall.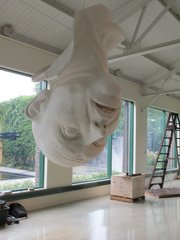 • David Platter, a recent master's graduate in sculpture, has won a nice award for his 700-pound cast bust, "Charting the Self."
It took him seven months to create the sculpture in a loft in the West Bottoms in Kansas City, Mo.
It received recognition from the International Sculpture Center that's now headquartered in Washington, but was founded right here at KU by retired KU sculpture professor Elden Tefft.
Platter received the recognition through the ISC's Outstanding Student Achievement in Contemporary Sculpture Award program. Fifteen students were honored out of an applicant pool of 183. Since the program was established in 1994, Platter is the second student to receive the prize.
His work will be on display at the Grounds for Sculpture in New Jersey from October until April 2012.
• Today marks my three-year anniversary at the Journal-World, and I've written about KU during that whole time. It's been a great ride, I can't think of a better way to celebrate this momentous occasion than by you submitting a tip for Heard on the Hill to ahyland@ljworld.com.
Copyright 2018 The Lawrence Journal-World. All rights reserved. This material may not be published, broadcast, rewritten or redistributed. We strive to uphold our values for every story published.