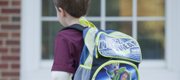 Subscribe to the email edition of First Bell and we'll deliver you the latest local education news and notes every weekday at noon.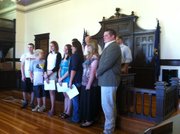 Douglas County commissioners honored area 4-H'ers on Wednesday afternoon at the Douglas County Courthouse, proclaiming next week to be National 4-H Week in Douglas County.
Commissioners thanked the youth development organization for its work helping students address problems in communities, raising awareness about environmental issues and making "a difference for their futures," among other things.
"Thanks to each of you," said Jim Flory, commission chairman, to a handful of 4-H'ers and leaders attending Wednesday's commission meeting. "Thanks for all you do."
Later in the meeting, after the 4-H'ers left, commissioners considered putting the youngsters to work: Sheriff Ken McGovern suggested that 4-H might be a good group for helping spread the word about the county's plans for implementing Smart 911 services in the county.
•••
As negotiations for a new work contract for teachers move into mediation this evening in Eudora, several issues regarding compensation look to be on the table: wages, insurance benefits, reimbursement for unused leave among them. Teachers also are looking for a guaranteed amount of time for planning.
Then there's a topic that doesn't make the formal discussion but hovers above the proceedings: just who is doing the negotiating?
Members of the Eudora Education Association handle negotiations on behalf of the district's 108 licensed educators, while the district is represented by the superintendent, two Eudora school board members and ... a hired attorney from Lathrop & Gage.
"They pay a lawyer to tell us they don't have any money," said Dick Powers, a member of the teachers' negotiating team who teaches second grade at Eudora Elementary School. "They pay a lawyer $250 an hour to say they don't have any money? It's the principle of it. We've never brought that up to the board, but it's a good point: Why do they have a lawyer negotiate for them?"
•••
With all the issues of the day out there — consolidation talk, budget challenges, curriculum work, capital needs, even questions regarding standards-based grading in middle schools — sometimes it's difficult to take a step back and look at the context behind certain decisions and deliberations involving schools.
Then I came across an interesting story — called "What's the matter with teachers today?" — from a writer at the Seattle Times, outlining how teaching has become "one of the most criticized jobs" in America.
"What's up with that?" the writer asks.
It's an interesting article, looking back at days of early teaching in America and how history has shaped matters today.
Copyright 2018 The Lawrence Journal-World. All rights reserved. This material may not be published, broadcast, rewritten or redistributed. We strive to uphold our values for every story published.