Photo Gallery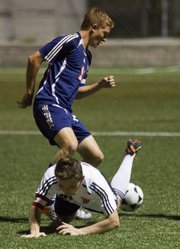 LHS soccer vs. Olathe East
Lawrence High's soccer team doesn't have the record it expected at this point in the year.
That said, the season is halfway done, and the Lions (2-5-1) have played most of their hardest foes.
But in Tuesday night's 1-0 home loss to Olathe East, LHS showed again why it hasn't had the success to match its potential.
"For whatever reason," coach Mike Murphy said, "we're just having a little trouble getting it rolling."
The Lions can't seem to get a goal early enough in games to hold it or to build a lead. They didn't score at all against the Hawks, and they spent most of the night playing catch-up.
Most of the first half was a stalemate. Neither team was exceptionally close to scoring, until a corner kick by O-East with 6:16 left in the half led to the game's only score. In a strange play, the ball deflected off of senior goalie Tanner Click's chest, and Connor Elliot of O-East put the ball high into the net.
The Lions brought much more intensity in the second half, pushing the ball at the Hawks. They might have been too aggressive at times, junior Justin Riley said, especially in the last six minutes, when panic began to sink in and players were taking shots 50 feet away from the goal.
"That's the time when we have to relax and just play our game," Riley said.
Though the Lions have a losing record, they have a favorable schedule ahead of them.
"Each game we've improved," Riley said. "I think the rest of the season we can definitely win most of our games. It's just getting over that first hump."
That first hump means scoring early so LHS can dictate the flow and not play cat-and-mouse with the other team, trying to get the ball, Murphy said.
But it's not easy for a team like LHS.
The school hasn't been a force in the Sunflower League in recent years, Murphy said, so getting his team to see itself as elite is the next step.
There's a subtle mind-set that winning teams have, and Murphy is trying to teach it his team. The idea is that winning teams go into games expecting to win and the game becomes easier.
For the Lions and the rest of the season, it's all a matter of perception.
"We've got to believe we can do this," Murphy said. "These guys are working hard enough to do it."
Copyright 2018 The Lawrence Journal-World. All rights reserved. This material may not be published, broadcast, rewritten or redistributed. We strive to uphold our values for every story published.