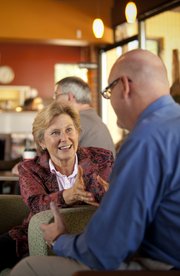 Just because the country remains mired in the Great Recession, with unemployment persisting and wages stagnating and employee security weakening and consumer confidence waning, doesn't mean that workers and anyone looking for work should wallow in frustration.
Give yourself a boost by working harder when it comes to seeking advancement, employment or anything else related to a career.
In short: Be better by showing how you're better.
"Experience alone is not enough," said Carol Rau, owner of Career Advantage, a Lawrence-based employment consulting firm, where clients receive help with job searches and résumé writing. "That will just allow you to apply. Remember, if there's a listing that says '10 years of experience and a bachelor's degree required,' and you have that, so does everyone else."
"The thing you have to focus on is to go above and beyond the experience," she said.
It's a familiar refrain by professionals connected with human relations, job searches and other fields affiliated with employment: Simply listing where you've worked, what jobs you've had and the responsibilities you've held may be impressive, but it often takes more to stand out in an increasingly crowded job market.
Clearly communicating what you've done, how much business you've generated, how many efficiencies you've identified and how many positives you've provided for an employer can help, they say. Think numbers, percentages, returns.
Evidence that you can get things done.
"You have to know what your own strengths are and what makes you different from people who do the same things you do," said Lyne Tumlinson, who runs Career Lift LLC, another Lawrence consulting firm that works with individuals, groups and organizations to make the most of their talent — and, increasingly, as a career coach for employees hoping to move up and former employees looking to land new jobs. "That makes you stand out. Otherwise, you become a commodity."
Whether you are looking for advancement in your current job or are working to get hired at a new job, the two professionals say there are a few things everyone should do:
• Do your homework. Find out exactly what an employer wants and then figure out, exactly, how you can make that happen.
• Focus on results. "What successes have you had?" Tumlinson said. "And what problems did you overcome?" Such details on a résumé should allow a reviewer to determine how you might fit into the company's plans, especially when compared with people who simply list their jobs and responsibilities. Rau's take: "If there's a way to quantify or measure what you did as an employee, those are powerful statements. … That shows you're the best qualified."
• Be proactive. "It's very frustrating to send off a lot of résumés and sit and wait," Rau said, so consider having a reference — preferably someone within the company you're targeting — make unsolicited contact with the company's hiring professionals or others in charge, even before you send in a résumé and cover letter. "It sounds very bold, but — in this market — you have to do anything you can to get an interview," Rau said. "The goal of a résumé is to get an interview. … You need to get your foot in the door and somehow be considered to get an interview."
Among Tumlinson's clients is Joel Wagler, who spent 25 years working in customer-service, management and ownership positions. After closing his business, The Mail Box, in December, he's been busy applying for jobs in the area.
He admits having been lost early on — not unusual for someone who had last interviewed for a job back in 1985, when he landed work stocking groceries in Hutchinson — but is encouraged by his direction since signing on with Career Lift.
Wagler knows he has plenty to offer and is working to see that potential employers see the benefits he can bring to the job beginning on Day One.
"I know what to look for," said Wagler, who is using Tumlinson's advice during confidential sessions to target traditional markets and explore new opportunities, a direction he's happy to share. "I'm confident with my résumé. I don't lack confidence in myself. …
"You can't control what the employers are doing, but you can control how you go about it. That's what I'm doing."
Copyright 2017 The Lawrence Journal-World. All rights reserved. This material may not be published, broadcast, rewritten or redistributed. We strive to uphold our values for every story published.