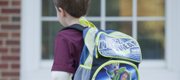 Subscribe to the email edition of First Bell and we'll deliver you the latest local education news and notes every weekday at noon.
As the Lawrence school board prepares to consider buying 172 iPad2s for use by students and teachers, at least one administrator is very much sold on the concept.
Kim Young, a curriculum specialist for the Lawrence school district, has been test driving an iPad — original version — since March. The district picked one up for her so that she could get familiar with the technology and explore its possibilities.
Through meetings and site visits and contacts throughout the district, the iPad goes with Young — and allows Young to take everything with her as she visits with professionals throughout the district.
"My desktop is in my iPad," Young said. "I can go anywhere in the district and quickly get into my desktop and I can get access to everything. There's no downtime of waiting for a computer to start up."
A meeting regarding common core standards started with all the backup material available through her iPad. Young took notes on her iPad. She continues to refer to the material, which remains in the iPad with room for more.
"Everything is saved," she said. "I don't have any paper. It's all with me, all the time."
The district looks to be making an investment in iPad 2s, considered the technology of choice. The first 172 tablets and all the related expenses — carts, software, professional development, etc. — come with a price tag of $122,230.
Board members are scheduled to consider approving the purchases tonight. The meeting starts at 7 p.m. at district headquarters, 110 McDonald Drive, immediately following an hourlong study session to address curriculum topics.
•••
Also during tonight's board meeting, district administrators will share information about a variety of "targeted federal programs," such as for those involving special education, technical education and at-risk students.
As several of charts included in the report show, federal money generally isn't increasing when it comes to assisting the school district, especially now that funding from the federal stimulus program (American Reinvestment and Recovery Act) has expired.
Among phrases included in the written report:
• "This is currently an unfunded mandate." (McKinney Vento Act: Education of Homeless Children and Youth)
• "Funding eliminated in 2010." (Title IV: Safe & Drug Free Schools)
• "Funding eliminated in 2011." (Title IID: Educational Technology)
Such situations will continue to spur budgeting challenges for the district this year and beyond. We'll see what board members have to say about the situation, and what suggestions administrators have for dealing with it.
•••
Board members certainly have plenty of information at their disposal.
And that means you do, too.
The board receives numerous reports and documents and presentations leading up to each meeting, and the information is available online at the district's website, USD497.org.
Not all of the information is intended to be used for making decisions, or even to inform discussions. Board members simply need to be aware of what's going on within the district, and the reports are considered a viable way of providing basic information.
While some reports can be considered major — who can forget the recommendations received Feb. 28 from the Lawrence Elementary School Facility Vision Task Force, a report that led to the closing of Wakarusa Valley School and ongoing discussions for consolidating others — there are many more that could be considered somewhat smaller.
An example from tonight's agenda: the Current Cash Balance Report for activity funds at Southwest Middle School.
In case you're wondering, the school's Math Club is carrying a cash balance of $3.93, while the Chess Club is holding onto $1,163.62.
Check.
Copyright 2018 The Lawrence Journal-World. All rights reserved. This material may not be published, broadcast, rewritten or redistributed. We strive to uphold our values for every story published.