Photo Gallery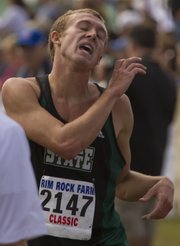 2011 Rim Rock Classic
Senior Kain Anderson, also known as Free State Homecoming King, got his weekend started off on a pretty good leg.
After receiving the Homecoming crown Friday night, Anderson went to the Rim Rock Classic on Saturday and set a personal best with a 15:59 and an eighth-place individual finish in the Boys 5K Gold Varsity race. The only problem was figuring out which accomplishment was better.
The FSHS boys team finished in 17th place out of 34 teams.
"Breaking 16:00 is something that I've wanted for a really long time, so it's also a very sweet thing," Anderson said. "I can't pick one. They're both really good honors."
Coming into the race, Anderson said he felt tired from the crazy week and the preparation for Homecoming. The coaches told him to just run without worrying about his time or place.
Anderson became the first FSHS runner to ever break 16:00 at Rim Rock. Going into race with no expectations seemed to work well.
"Maybe we'll try it a few more times," Anderson said.
Free State senior Kamp Wiebe was next for the Firebirds at 16:40, good for 40th place individually.
On the girls, side, senior Lynn Robinson said she wasn't tired before the race. It was during the race that got her.
There were 186 girls in the Girls 4K Gold Varsity race and that meant better competition. Robinson lost some confidence when she wasn't in the front pack like usual and hit a wall in the middle of the race.
Still, she finished in 18th place and set a new personal record.
"It didn't feel like a 15:46 when I was running," she said of her time.
The FSHS girls finished in 11th place out of 27 teams.
Molly McCord was the second Firebird to finish, coming in 54th place with a 16:30.
FSHS coach Steve Heffernan said the team's success came from a new training regimen. On Tuesdays, the team goes to Fall Creek, a place with bigger hills than Rim Rock. It gave the team confidence this week and will most likely do the same in two weeks when the Sunflower League meet takes place at Rim Rock.
"This year," Heffernan said, "that training run has probably made the biggest difference."
Copyright 2018 The Lawrence Journal-World. All rights reserved. This material may not be published, broadcast, rewritten or redistributed. We strive to uphold our values for every story published.