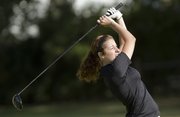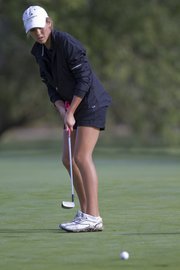 It's a good thing Attie Pennybaker practices every day at Alvamar Golf Club.
Because of her putting and familiarity with the course, she shot a personal-best 94 at Thursday's Lawrence Invitational while the other teams quickly realized how sneaky the speed of the greens were.
"The girls I played with were having a horrible time putting," Pennybaker, a junior, said.
Lawrence finished its home tournament 11th out of 20 teams, with a team score of 398. Garden City dominated the tournament with a score of 322. The goal for the Lions in the 18-hole meet was to break 400.
Pennybaker's performance impressed coach Mike Lewis and helped the team score look significantly better.
"She played outstanding today," Lewis said. "She's a hardworking girl, and she's somebody who has the talent to keep getting better."
Sophomore Abigail Schmidtberger, who shot a 98, was the only other Lion below 100.
Last week, in an 18-hole tournament, Pennybaker shot a 99. She said recently she has had trouble putting, and Thursday's breakthrough came from the ability to sink a couple of 20-foot putts.
Lewis said the team as a whole performed up to expectations, but Pennybaker's score was the only thing that surprised him.
"I knew she had it in her," Lewis said, "but I wasn't quite expecting her to go into the low 90s like that."
Some girls on other teams reached the low 80s, and one, Jordan Chael from Saint Thomas Aquinas, shot a tournament-best 70.
After the match, Lewis assessed what his team needs to do better.
The girls already know, as some of them admitted they didn't do their best.
Senior Payton Covert couldn't capitalize on the tournament being at home and, unlike Pennybaker, she struggled on the greens.
"I went in thinking I was going to do good," she said. "This was my home course."
After the tournament, Covert said she didn't know if that expectation stressed her out or if it was something else. But she wanted to do better than her 105.
"It was just a hard day," she said.
Free State finished 15th in the tournament, led by Madison Brumley, who shot a 102.
Copyright 2018 The Lawrence Journal-World. All rights reserved. This material may not be published, broadcast, rewritten or redistributed. We strive to uphold our values for every story published.