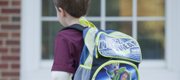 Subscribe to the email edition of First Bell and we'll deliver you the latest local education news and notes every weekday at noon.
Changes in grading and grade-reporting processes involving some elementary and middle school students will be up for discussion during Monday night's meeting of the Lawrence school board.
The changes involve what are known as Standards Based Reports.
Such report cards aren't like the traditional ones many older folks recall. In grades K-3, for example, the letters A, B, C, D and F are not used as grades. Instead, students receive an S for successfully meeting standards, an M for making progress toward standards, a T for being targeted for growth, and E for excelling consistently.
Superintendent Rick Doll provides some background in a memo to board members:
"Lawrence Public Schools is committed to investigating and using best practices in grading and reporting. In 1997, an elementary progress report committee was formed to update current practices and reporting from a 26-year old report card. In 2000-2001, the elementary standards-based progress report was created by a cadre of teachers and district-wide implementation followed in 2003."
Earlier this month I wrote a story about some of the changes going into effect for this year, and apparently some folks found the topic interesting (at last check, the online version of the story had 200 comments).
In his memo to board members, Doll outlines the rationale for planning to provide a report Monday night:
"With the move of 6th graders to the middle schools and the fact that some teachers were not familiar with the grading and reporting system, questions about the system have been raised by parents and teachers. In an effort to clearly communicate the reasons for a standards-based reporting system and to clarify misconceptions, staff is providing this report."
The meeting begins at 7 p.m. Monday at district headquarters, 110 McDonald Drive. The meeting immediately follows a 6 p.m. study session, during which board members are scheduled to discuss "District Curriculum Review ~ Process & New Common Core State Standards."
•••
Members of the Lawrence school board will receive a report Monday night regarding student enrollment for the 2011-12 school year.
The report will come from Kyle Hayden, the district's chief operations officer.
Included in his report are a couple of charts, available online. You can check them out to see which schools have how many students, and how many students are in specific classes in elementary schools. Interesting stuff.
Just FYI, at the elementary level, the district has 4,646 students in its 14 traditional elementary buildings, an increase of 30, or 0.6 percent, from the district's projected elementary enrollment.
There are 217 different "sections," or classes, in the elementary schools, for an average of 21.41 students per class.
Here are the variances for each school's enrollment as compared with projections, ranging from biggest increase to biggest decrease:
• Cordley, 9.3 percent above projection.
• Hillcrest, 5.3 percent above projection.
• Broken Arrow, 5.2 percent above projection.
• Sunflower, 3.8 percent above projection.
• Sunset Hill, 2.8 percent above projection.
• Woodlawn, 2.7 percent above projection.
• Kennedy, 0.5 percent above projection.
• Pinckney, no change.
• Deerfield, 0.4 percent below projection.
• Prairie Park, 1.4 percent below projection.
• Langston Hughes, 1.9 percent below projection.
• Quail Run, 2.1 percent below projection.
• Schwegler, 4.8 percent below projection.
• New York, 8.0 percent below projection.
Copyright 2018 The Lawrence Journal-World. All rights reserved. This material may not be published, broadcast, rewritten or redistributed. We strive to uphold our values for every story published.