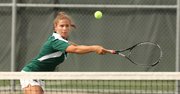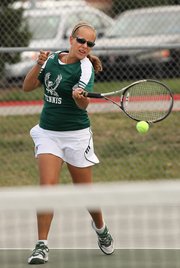 Free State High's tennis team was happy with a split Wednesday.
The Firebirds blanked Shawnee Mission North, 4-0, and tied perennial power SM Northwest, 2-2, at FSHS.
"To be able to split with Shawnee Mission Northwest is a good day," FSHS coach Oather Strawderman said.
The final match of the day was between Emily Sadoski of FSHS and Lauren Benjamin of SM Northwest. The Firebirds were up, 2-1, against the Cougars, and Sadoski led by a set most of the way until Benjamin tied it at 6 and finished off the last two sets.
The other close match against the Cougars ended in favor of the Firebirds. The doubles duo of sophomore Alita Joseph and freshman Megan Reynolds, despite their youth, overcame an early deficit to win in a tiebreaker, 8-7 (7-4).
It was one of the most reassuring moments of the day for Strawderman.
"That's a good sign for the future of our team for years to come," he said.
The meet was supposed to be a quad, but Blue Valley Southwest backed out, so the girls only played two matches instead of three.
"It was a little disappointing," Guin Toalson said. "I really like playing, and that's why I'm part of the team."
The league meet is Tuesday, and Strawderman said he expects a top-four finish. Shawnee Mission East has yet to be dethroned after several years of winning league.
"I think it's always good to shoot for the top," Strawderman said, "but I think that it's good to be realistic."
Still, a lot of the girls remain optimistic about their chances.
"Hopefully, most of our team will end up going to state and placing there," Toalson said, "if not winning."
Copyright 2018 The Lawrence Journal-World. All rights reserved. This material may not be published, broadcast, rewritten or redistributed. We strive to uphold our values for every story published.