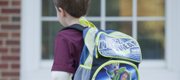 Subscribe to the email edition of First Bell and we'll deliver you the latest local education news and notes every weekday at noon.
The Lawrence school district is accepting nominations for Lawrence Master Teacher, an annual award recognizing excellence among teachers with more than five years of experience.
Last year's winner was Ann Lounsbury, team leader and Title I reading and math coach at Kennedy School, who received a $2,500 check from KU Credit Union.
Each year, the Lawrence winner is nominated by the district for Kansas Master Teacher, a program sponsored by the Teachers College at Emporia State University.
Winners in the Lawrence and state competitions are recognized for their teaching effectiveness, highest ethical standards, unwavering commitment to students and the profession, constructive service in the community, zeal in promoting the advancement of education, and a sincere interest in professional organizations.
Anyone — principals, colleagues, parents, students, former students and community members — can nominate a teacher, and multiple nominations are welcome.
Send nomination letters to the Lawrence Master Teacher Selection Committee, in care of Julie Boyle, communications director, at district headquarters, 110 McDonald Drive, Lawrence. The deadline for nominations is 5 p.m. Oct. 13.
Among previous Lawrence Master Teachers:
• 2009: Kassie Shook, Sunflower School.
• 2008: Chuck Law, Free State High School.
• 2007: Judy Kettle, Wakarusa Valley School.
• 2006: Ron Garvin, South Junior High School.
• 2005: Gerry Bukaty, Sunflower School.
• 2004: Keri Austin-Janousek, Free State.
• 2003: Pat Grzenda, districtwide special education.
• 2002: Pamela Williams, Broken Arrow School.
• 2001: Sherry Slade, Free State.
• 2000: Joe Nyre, districtwide special education.
Shook and Grzenda each also were named Kansas Master Teacher.
•••
Anyone looking to attend tonight's meeting of the Central and East Lawrence Elementary School Consolidation Working Group is welcome to attend and observe.
During their previous meeting, members reviewed and embraced their intention that their work be transparent. Members discussed several different ways to welcome public comment and input during the process.
Some members have discussed the possibility of opening online forums or other methods for communication. Members generally agreed that discussion during meetings would be limited to group members, their hired facilitators and district staffers.
The working group's members are volunteers working to recommend a plan for consolidating a six district elementary schools — Cordley, Hillcrest, Kennedy, New York, Pinckney and Sunset Hill — into three or four within two to three years. The group has 27 members, 26 of whom are representatives from the communities of the six schools, plus two from Woodlawn School and an at-large chairman.
Tonight's meeting runs from 7 p.m. to 9 p.m. at district headquarters, 110 McDonald Drive. Their recommendations are due to the Lawrence school board in February.
•••
Speaking of public input, group members are scheduled to consider two discussion questions during their meeting tonight:
• What are the important characteristics or qualities (tangible and intangible) of a good elementary school?
• What are the most important values to consider when making our decisions?
Any thoughts?
Copyright 2018 The Lawrence Journal-World. All rights reserved. This material may not be published, broadcast, rewritten or redistributed. We strive to uphold our values for every story published.