Photo Gallery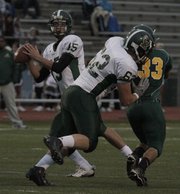 Free State vs. Shawnee Mission South
Box score
Free State 26, SM South 21
FS, SMS
First downs 13, 13
Rushes-yards 22-102, 49-244
Passing yards 206, 39
Total Offense 308, 283
Fumbles-lost 2-0, 2-1
Penalties-yards 5-36, 8-55
Score by Quarters
Free State 6 6 8 6 — 26
SM South 7 7 7 0 — 21
Individual Statistics
Rushing
Free State: Kyle McFarland 13-84, T.J. Cobbs 4-20, Stan Skwarlo 2-6, Joe Dineen 2--8x.
SM South: Gabe Guild 24-141, TD, Alex Forslund 18-74, 2 TD, Ra'Keim Abdul 3-20, Jake Burnett 4-9.
Passing
Free State: Kyle McFarland 10-18-206, 4 TD, 2 INT.
SM South: Alex Forslund 3-7-39, 2 INT.
Receiving
Free State: Tye Hughes 3-38, TD, Calloway Schmidt 1-28, TD, Ryan Patterson 2-91, TD, Sam Hearnen, 2-30, TD, Chris Heller 1-11, Demarko Bob 1-8.
SM South: Jake Burnett 2-24, Gabe Guild 1-15.
How they scored
First Quarter
7:38 — Sam Hearnen 12 pass from Kyle McFarland. Kale Joyce kick failed. (Free State 6, SM South 0.)
3:30 — Alex Forslund 7 run. Dainan Swoop kick. (SM South 7, Free STate 6.)
Second Quarter
11:54 — Tye Hughes 11 pass from McFarland. Pass failed. (Free State 12, SM South 7.)
4:18 — Forslund 1 run. Swoop kick. (SM South 14, Free State 12.)
Third Quarter
8:57 — Gabe Guild 79 run. Swoop kick. (SM South 21, Free State 12.)
8:35 — Ryan Patterson 67 pass from McFarland. Run. (SM South 21, Free State 20.)
Fourth Quarter
1:23 — Calloway Schmidt 28 pass from McFarland. Run failed. (Free State 26, SM South 21.)
Overland Park — Going into Friday night's contest against Shawnee Mission South, Free State High's football team had split the workload between quarterbacks Kyle McFarland and Joe Dineen. After McFarland's performance against the Raiders, he just might have the job to himself.
McFarland, a junior, threw for 206 yards and four touchdowns, including a perfectly placed 28-yard go-ahead touchdown to Calloway Schmidt with 1:23 left in the game to seal the 26-21 victory.
"I knew I was going to him right away because he was playing man, and he was going to make a big play, so I just got it over the defender, and he came down with a great catch," said McFarland.
It seemed Schmidt knew what was coming before the snap as well.
"I lined up and saw my man was playing up close so I knew I could beat him, give him the inside and then run to the out. Kyle threw a dime and I came down with it," said Schmidt.
Free State struck first after McFarland found junior Sam Hearnen on his first pass of the night for a 12-yard touchdown with 7:38 left in the first quarter to go up, 6-0. McFarland connected on his first four passes, two of them for scores.
SMS fought back with its solid ground game, capping a 44-yard drive with a seven-yard touchdown run by senior quarterback Alex Forslund. The Raiders took the lead after the extra point with 3:30 to go in the first quarter.
McFarland marched Free State (2-1) down the field 69 yards on its next possession, picking up 40 yards through the air. He found junior Tye Hughes in the endzone for an 11-yard touchdown on the first play of the second quarter to put the Firebirds back on top, 12-7, after the failed two-point conversion.
It was then a heavy dose of Forslund on the ground. He carried eight times for 34 yards during the Pirates' next scoring drive, including a one-yard plunge into the endzone to take the lead going into halftime. SMS Carried the ball 49 times on the night and made just seven pass attempts.
Heading into the game, Free State coach Bob Lisher was leery of what his opponent brought to the table running the ball. SMS junior Gabe Guild came into the game as the Sunflower League's leading rusher, averaging eight yards per carry. Guild ended the night with 24 carries for 142 yards. Lisher said his team needed to be more physical to control the line of scrimmage.
"We got after it a little bit more this week in practice and I think it showed a little bit more tonight. Our young guys have got to learn to play physical in this league — a 'ready or not here we come' type deal," he said.
Guild came out ready in the second half. After a three-and-out by Free State, Guild broke loose on his second run of the second half for a 79-yard touchdown run. Free State answered with a big play of its own after McFarland dumped it to senior Ryan Patterson, who fought off a tackle and scampered for a 67-yard touchdown to pull the Firebirds to within one point, 21-20.
With just over nine minutes left in the game and Free State backed up to its own one-yard line, McFarland attempted a pass over the middle that was intercepted at the six-yard line. He made up for it with a huge defensive effort on the very next play, picking off a pass in the end zone to give his team the ball back. That seemed to give him the confidence he needed to construct the winning scoring drive a couple possessions later.
"I was actually running with another guy and I saw the guy I was supposed to be covering coming across so I kind of turned with him and the ball just came right to me. I was just in the right place at the right time," McFarland said.
It wouldn't be the last big play he'd make on defense either. McFarland made his second interception of the night with 25 seconds to go, sealing the victory.
"It was fun we really haven't had a good game yet this season. Last game was close but it wasn't a fun win. This game was fun," McFarland said.
Added Lisher: "Kyle had a very good night and a couple of spots that weren't so good offensively but then he'd turn around and make big plays defensively, especially right at the end to help us seal it."
As for McFarland taking the starting spot for good:
"We'll determine that. They're both playing a lot of defense and it's tough sometimes to get your mind turned around. Especially when you don't start the game on offense. We'll continue to work them both in practice but for now I think we'll go with Kyle a little bit a see what happens," Lisher said.
Copyright 2018 The Lawrence Journal-World. All rights reserved. This material may not be published, broadcast, rewritten or redistributed. We strive to uphold our values for every story published.