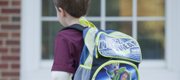 Subscribe to the email edition of First Bell and we'll deliver you the latest local education news and notes every weekday at noon.
A school-reform program developed at Kansas University is making a difference in boosting test scores in schools with high-poverty populations.
The Schoolwide Applications Model, or SAM, breaks down traditional barrier in schools that traditionally have separated students based on abilities — places where special-education students, English as a Second Language learners, gifted children and others with behavioral problems after would be handled in different programs, classrooms and other venues.
The SAM program — developed by Wayne Sailor, professor of special education and associate director of the Beach Center on disability at KU, and Blair Roger, an educational consultant from San Francisco — instead brings all students and staff together in participating schools.
Among the examples of the program's success, according to KU:
• The program was first implemented at White Church Elementary School in Kansas City, Kan., a school with a large number of students living in poverty and whose students performed poorly on annual assessment tests. In 2005, after a few years with the SAM program, "the school was named the top performing elementary school in Kansas."
• SAM then went to the Ravenswood City School District in East Palo Alto, Calif., the second-lowest performing district in the state. District schools now exceed the state average on standardized tests, and special education referrals have dropped from 15 percent of students to 9 percent; the state average is 10 percent.
• The SAM system went to New Orleans after Hurricane Katrina and, after two years of helping several poverty-stricken schools improve, then went to Washington, D.C., where SAM now is in place at 16 schools — and student performance has improved in each.
The system has caught the attention of Arne Duncan, U.S. secretary of education.
"Their philosophy there is as profound as it is simple," Duncan said. "They told me repeatedly that they're preparing all their students for success in one society, not a general ed society and not a special ed one. That world simply doesn't exist."
As the research team completes its work in Washington, it now is looking toward districts in East St. Louis and others in Illinois. Poor, rural districts could be next.
"The research has shown that if you engage them, poor students can learn and perform as well as any of their peers," Sailor said.
•••
A full parking lot awaits members of the Central and East Lawrence Elementary School Consolidation Working Group.
The "parking lot" — a list of items for future consideration by task force members — was created Sept. 7, during the working group's first meeting at Lawrence school district headquarters, 110 McDonald Drive.
Now, as group members prepare to meet again — that would be from 7 p.m. to 9 p.m. Monday, again at district headquarters — those items will be up for review, discussion, consideration and anything else members choose to pursue as they work toward devising a plan to consolidation two or three of six schools identified as candidates by the Lawrence school board.
The elementary schools being considered: Cordley, Hillcrest, Kennedy, New York, Pinckney and Sunset Hill.
Here are the items currently pulled into the "parking lot," idling for consideration (as listed in the meeting minutes from Sept. 7):
• Discussion of reporting to and receiving feedback from the school board. Is a subcommittee needed?
• What is consensus?
• Groupings for future meetings, large/small, mixed.
• Discussion of an electronic forum for sharing of information among working group members and receiving public input.
• Developing a clear understanding of expectations with neighborhoods.
• Equality is not the same as equity.
• Discussion of questions for/information needed from city staff.
• Impact of school size on student achievement.
• Traffic and facilities.
• Ideal elementary school.
• Polling community about support for a future bond issue.
• Updated capital outlay plan.
• Student outcomes compared to class size.
• Demographics of neighborhoods.
Some of the items are destined to be on the formal agenda for Monday night. How many others stay parked for the coming weeks remains to be seen.
Copyright 2018 The Lawrence Journal-World. All rights reserved. This material may not be published, broadcast, rewritten or redistributed. We strive to uphold our values for every story published.