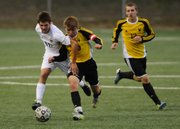 Free State High's Jake Walter was playing as well as any player this season when he ran into the high school player of the week, Shawnee Mission West goalie Jared Kirkwood.
Kirkwood was winning the battle when Walter slipped the ball past him three minutes into overtime, scoring the winning goal in a 2-1 Free State victory on Thursday at FSHS.
"The boy's just on fire right now," coach Kelly Barah said.
SM West scored first with 9:22 left in the first half and FSHS (3-1) didn't make its first shot until Evan Smith drilled one at 32:39 in the second half to tie the game at 1-1.
"I've been making that run over and over again," Smith said. "They've been giving me the ball and I've missed almost every single shot."
Walter scored his fifth goal of the season in the overtime.
The Firebirds ended the week at 2-1. And after a loss to Shawnee Mission South on Wednesday, Barah was surprised his team bounced back so quickly.
"We are more mature than I gave us credit for," he said.
The Firebirds travel on Tuesday to Shawnee Mission East.
Copyright 2018 The Lawrence Journal-World. All rights reserved. This material may not be published, broadcast, rewritten or redistributed. We strive to uphold our values for every story published.