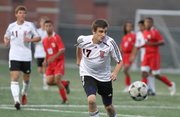 Even on the winning end of a lopsided soccer game, Lawrence High learned a valuable lesson in sportsmanship.
LHS (1-2) had no trouble outscoring Olathe North, 4-0, Tuesday night at LHS, but the Eagles wouldn't go quietly. The Lions scored all four goals in the first half, and by the second half the Eagles changed their tone.
"It definitely got more physical," LHS coach Mike Murphy said.
The contest quickly turned into a flop-laden, trash-talking outburst after a first half of quality play from both teams. The referee lectured several players for rowdiness, while the Lions kept their cool. They didn't retaliate, they just played soccer.
"They talked a lot and they dove a lot, faking injuries trying to run out the clock," LHS senior Zach Wustefeld said.
About five minutes in, Wustefeld gave the Lions their first goal of the season. He followed it up with another six minutes later.
Chandler Thomann and Donald Harris both came off the bench and added a goal apiece.
After struggling to score in its first two games, LHS had no such trouble against O-North, converting the same goals that eluded it in the previous two matches.
"We talked about that at halftime," Murphy said. "The monkey's off our back. We've scored. Now let's play soccer."
And so LHS did. The Lions passed the ball the entire half, maintaining control without running up the score.
Every five minutes, as if to stop the flow of the action, it seemed an O-North player would go down in pain. Some flops looked serious; some were just for show. Then came the verbal jabs from the Eagles, but the Lions still went about their business.
Of course, it's easy when you're not the one getting beat, Wustefeld said.
"Having four goals, you can pretty much keep your cool because it doesn't really matter," he said.
After the game, Eagles head coach Dave Glassman lectured his team while Murphy praised his. Winning the game was important, but showing composure was a greater gauge of his team's strength, he said.
"Kids get frustrated," Murphy said. "Kids are kids. But I told these guys though that no matter what, we play smart and we play cool and we keep our emotions in check."
LHS will travel to Shawnee Mission Northwest, one of the top teams in the conference, at 7 p.m. Thursday.
Copyright 2018 The Lawrence Journal-World. All rights reserved. This material may not be published, broadcast, rewritten or redistributed. We strive to uphold our values for every story published.